Jessica Melena is the stunning wife of the Lazio star Ciro Immobile. Jessica is a WAG different from the others. In the following article you will find out why and also you will learn many interesting facts about Jessica, so follow along.
Ciro Immobile has been a key part of the Lazio attack ever since he joined the club in 2016. In the 2019/20 season the Italian striker even won the European Golden Shoe, as he scored 36 goals in Serie A. Undoubtedly, Immobile has been one of the best strikers in the world, but we are not here to talk about his professional career.
Ciro Immobile is married to Jessica Melena. They dated for a long time, before tying the knot in 2014 in a beautiful wedding ceremony in Bucchianico, Italy. Immobile and Jessica's wedding was attended by all their friends and families.
For Ciro Immobile and Jessica it was a real love at first sight, a lightning that changed her life: "It was like a tsunami that razed the past to the ground. As before, there is hardly anything left. I left university, my family, my roots. I made two daughters and six moves in six years between Italy, Germany and Spain ", he told Vanity Fair in 2017.
Jessica Melena is mostly famous for being the wife of the Lazio star, Ciro Immobile. Jessica is mostly famous for her simplicity and for being a real mother of three children of Ciro Immobile. Jessica is also a big supporter of her husband and she always takes the opportunity to go to the stadium and cheer for him while he is playing.
Now, let's take a closer look into Jessica Melena's biography and learn more about her.
Jessica Melena was born on July 17, 1990, which means that her age 32. According to her birthday Melena's zodiac sign is Cancer, meaning that she is a very emotional person. Usually people born under the sign of Cancer are great friends and they always do their best to help others.
Jessica Melena was born in Italy, so her nationality is Italian, such as her husband's. Jessica belongs to Italian-Spanish-Portuguese ethnicity.
Jessica Melena's parents did an amazing job raising their children right. Unfortunately, there is no information regarding her father and her mother as Jessica prefers to keep that a secret. However, she often posts pictures of her father on Instagram, so we assume that they have a very strong connection.
Jessica Melena has one sibling, a brother, Luca Melena.
Jessica Melena graduated high school in her hometown in Italy. Right after high school she chose to leave Italy and move to L'Aquila where she enrolled in the Faculty of Investigation Sciences. Jessica did not finish her degree as she decided to leave the Faculty to be able to follow the man she loves anywhere.
Jessica Melena works as a model, influencer and she is an Internet personality. Her fans love her and she has a very positive influence on them.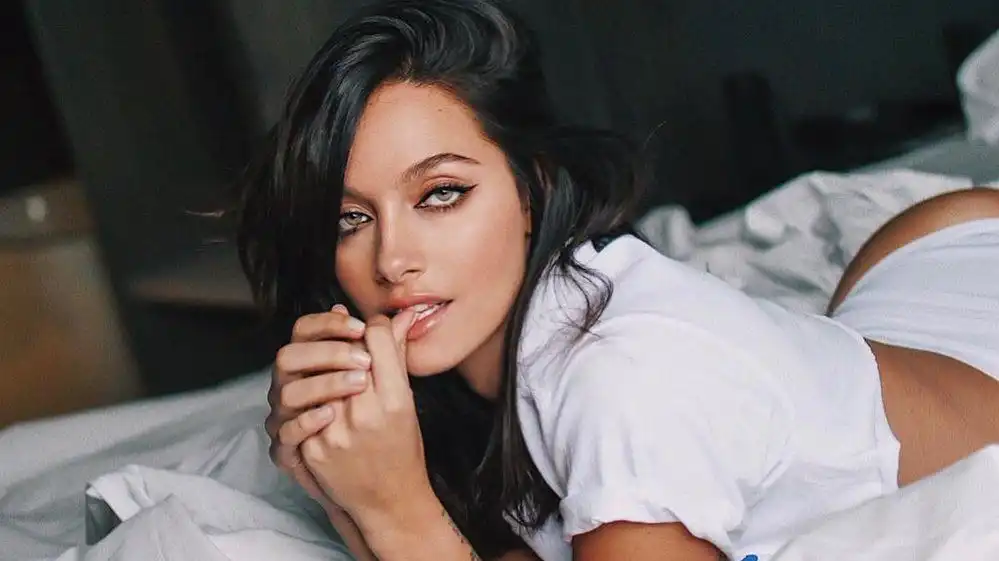 Checkout Paulo Dybala's Hot Girlfriend - Oriana Sabatini
Jessica Melena's net worth is under review at the moment so stay tuned for further information.
Ciro Immobile's net worth on the other hand is well known. Immobile's net worth is estimated to be over €15 Million.
Ciro Immobile's annual salary is estimated to be over €4 Million and his weekly wage is €88,462.
Jessica Melena has over 959k followers on her Instagram account. She often shares photos of her wearing a bikini, while she and her family are on their vacations to the exotic cities. She is also active on TikTok with the nickname, @ciroejessica with over 89.4K followers. But she is not active on Facebook and Twitter.
You can check Jessica Melena's Instagram here. She goes by the nickname @jessicamelena. Jessica loves to share with her audience the luxurious life she is living, as she posts pictures of the Ferrari she is driving. She also likes to travel and she has visited many countries with her husband and their family.
She has a very appealing height of 5 ft 8 in (1.72m) and her weight is around 62kg. Jessica is very strict with her diet and she always takes time to exercise, as she is trying to have a healthy lifestyle.
Ciro Immobile and Jessica Melena are blessed with three children.
In June 2013, Jessica gave birth to Immobile's first daughter, Michela Immobile. A year later Jessica became pregnant for the second time and in June 2015, she gave birth to their second child, a daughter, who they named ️Giorgia Immobile.
In September 2019, the couple welcomed their third child, a son - Mattia Immobile.