Alexia Notto is the stunning wife of the Newcastle United star, Miguel Almiron. You will be surprised when you learn when did Alexia and Almiron tie the knot as she was still in her teens. In this article you will learn everything there is to know about Alexia Notto, the beautiful wife of Miguel Almirón.
Miguel Almirón is one of the star names in the Newcastle team. The Paraguay playmaker quickly became one of the best players at Newcastle and he showed the managing staff that he can be trusted. The fans were delighted with the signing of the Paraguayan because he was the much-needed reinforcement of the squad, but also because they were about to see his stunning partner more often in the stadium.
Miguel Almiron is married to his childhood sweetheart Alexia Notto. Miguel and Alexia started dating when they were in their early teens. After dating for many years Miguel decided that it was finally time to put a ring on Alexia's hand and he proposed to her in a very romantic way. In 2016, Miguel Almiron and Alexia Notto tied the knot in a private wedding ceremony, attended by their closest family members and friends.
The couple got married in August 2016, when Alexia Notto was 19 years old. Many were surprised by their decision but when you find the right person you want to spend the rest of your life with him or her.
Alexia Notto is an Instagram and TikTok star with thousands of followers. She is also known for being the wife of the Newcastle United player Miguel Almiron. Now, let's take a closer look at Alexia Notto's biography and learn as much as possible about her.
Alexia Notto was born on August 11, 1997, so her age is 25. According to her birthday, Alexia Notto's zodiac sign is Leo, which means that she is a very confident and ambitious person. Usually, people born under the sign of Leo are known for their leadership qualities and loyalty.
Alexia Notto was born in Paraguay, meaning that her nationality is Paraguayan.
Alexia Notto is a person who doesn't like to share such personal information. She hasn't disclosed any detail about her parents. It is unknown who her mother and father are.
Alexia Notto has one sibling, an older brother, Alejandro Notto.
Alexia Notto completed her education in Paraguay. It is unknown if she enrolled in university after graduating from high school. We believe that she decided to follow her boyfriend (now husband) to America when he signed with Atlanta United.
Alexia Notto's used to work as a Zumba teacher. After giving birth to her first child she took a break from her work. Currently, she is mostly focused on growing her Instagram and TikTok accounts.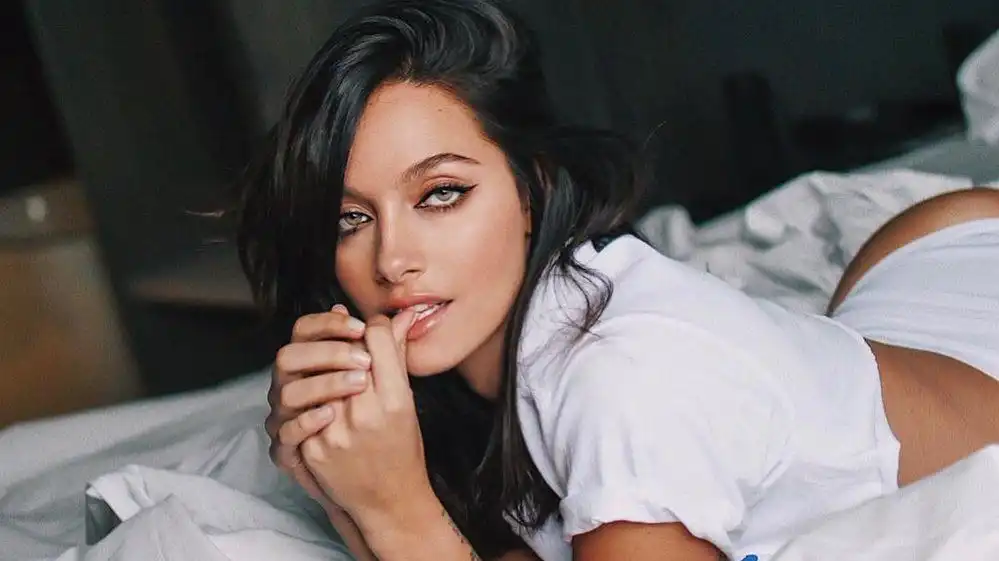 Checkout Paulo Dybala's Hot Girlfriend - Oriana Sabatini
Alexia Notto's net worth is under review at the moment, so stay tuned for further information about the topic.
Miguel Almiron's net worth on the other hand is quite significant, but it is not surprising because he is a football player.
Miguel Almiron's net worth is estimated to be over $8 Million. Almiron's annual salary is £3,8 Million and his weekly wage is £74,000. He and Joelinton are one of the highest-paid Newcastle United players.
Alexia Notto is very active on social media and she has gained thousands of followers both on Instagram and TikTok. On Insta, she posts mainly pictures of herself and her lovely child. Alexia has nearly 80K followers on TikTok.
You can check Alexia Notto's Instagram here, she goes by the nickname @alexiaa_notto.
Alexia Notto's height is around 5 ft 6 in (1.70 m) and her weight is around 60 kg (132 lbs). She has dark hair and brown eyes. Currently, Alexia doesn't have tattoos on her body.
Alexia Notto and Miguel Almiron have one child together. They have a son.
In June 2021, Alexia Notto gave birth to Miguel Almiron's son, Francesco Almiron Notto.