Leonita Lekaj is one of the most beautiful women and Granit Xhaka is a very lucky man, having a wife like her. In the following article you will find everything there is to know about Leonita Lekaj, including many interesting facts about her.
Granit Xhaka is one of the key players in the Arsenal squad. The Switzerland international has proven himself to be a trustworthy midfielder. We decided to take a look not at his professional career, but instead at his more personal life. Is Granit single or does he have a girlfriend? Does he have any children, or not?
Granit Xhaka is married to the stunning Leonita Lekaj. The couple have been together for many years. They started dating when the Switzerland international was playing for the Bundesliga team Borussia Mönchengladbach in 2015.
The couple got engaged a month before they had tied the knot, when Xhaka proposed while they were having a romantic dinner. Leonita became Mrs. Xhaka in 2017. Xhaka married Leonita on July 6 in a lavish wedding ceremony attended by his teammates and all of his family members.
He posted a picture where he was on his knee holding the ring and captioned it: "She said YES. A golden Ball is a miracle, a golden wife is a paradise! Mr & Mrs Xhaka."
Leonita Lekaj is mostly known for being the wife of the Swiss midfielder, Granit Xhaka.
Leonita got famous after she started dating the Swiss international and since then she became an Instagram model.
Leonita Lekaj was born on March 31, 1992, which means that her age is 30.
According to her birthday, Leonita Lekaj's zodiac sign is Aries, meaning that she has a warm and enthusiastic nature. Usually people born under the sign of Aries seek energetic activities and would travel for most of their life, back and forth, around the world.
Leionita Lekaj was born in Albania, but she was raised in Pristina, Kosovo. According to her place of birth, Leionita's nationality is Albanian.When she got older her family moved to the Ruhr region of Germany.
Leonita Lekaj's parents did a great job in raising their kids right. Unfortunately, there is no official information regarding her mother and her father, as Leionita has not disclosed anything specific about them.
Leonita Lekaj has one sibling, a brother Leonard Lekaj.
Lekaj is the biggest supporter of the Arsenal midfielder and she often cheers him when he is playing. She was first seen cheering him at the Euro 2016 where Switzerland played against Albania in the opening game. Leionita was seen alongside her mother in law, while they were watching the game in the crowd as Granit Xhaka was playing against his brother, Taulant Xhaka, who chose to represent Albania instead of Switzerland.
Leonita Lekaj graduated high school in Germany and she was an excellent student. There is no information if she enrolled in university.
Leonita Lekaj is a professional model and she has done many photoshoots for different magazines. She is also an Instagram star, who the fans just adore and she has a positive influence on them.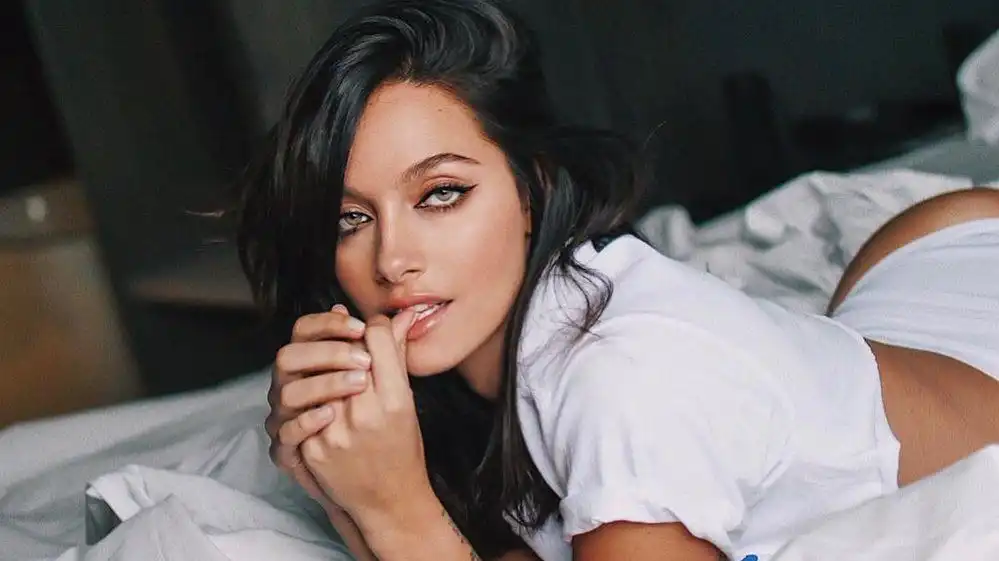 Checkout Paulo Dybala's Hot Girlfriend - Oriana Sabatini
Leonita Lekaj's net worth is under review at the moment, so stay tuned for further information.
Granit Xhaka's net worth on the other hand is well known. Xhaka's net worth is estimated to be over €20 Million.
Granit Xhaka's annual salary is estimated to be around €5 Million and his weekly wage is around €101,626.
Leonita Lekaj is very popular on social media. She has gained over 181K followers and they are continuing to grow on a daily basis.
You can check Leonita Lekaj's Instagram here. She goes by the nickname @leonita.x. After the controversy around Xhaka she was getting a lot of online abuse that's why Leonita set her profile settings to private, but recently she decided to unlock it again.
Granit Xhaka and Leonita Lekaj welcomed their first child on October 7, 2019. Lekaj gave birth to a wonderful baby girl who they decided to name Ayana Xhaka.
On April 24, 2021, Leonita gave birth to Granit Xhaka's second daughter ️Laneya Xhaka.