Dani Dyer is a television personality and an actress, who is rumoured to be dating the West Ham United star Jarrod Bowen. Dani found a real support system in Jarrod after her split from the father of her child Sammy Kimmence, who was convicted of scamming two pensioners out of thousands of pounds.
In this article you will learn everything there is to know about Dani Dyer such as when is her birthday, what is her profession, more about her time on Love Island and so much more. Read on to find many interesting facts about Jarrod Bowen's girlfriend.
Jarrod Bowen is one of the star names in the West Ham team. The Englishman has become an integral part of the Hammers attack. When West Ham signed Bowen from Hull City in 2020 the fans were very pleased as they knew that a player like him is the much-needed reinforcement in the front line. Bowen make the headlines in late 2021 when he was spotted leaving Dani Dyer's house.
Jarrod Bowen is rumoured to be dating the Love Island season four winner Dani Dyer. The rumours started when Jarrod was pictured leaving Dyer's house.
A source close to the presenter of told the tabloids: "She has been to hell and back in the last year and Jarrod has been a real support for her in recent weeks.
"They started spending time together as just friends but as time has gone on they have grown closer and seem to be getting on really well.
"Jarrod is really into his fitness and Dani has been getting into her workouts lately, so they have bonded over that as well as other interests."
As it seems Jarrod gave her the much-needed push to get her life back together after separating from Sammy Kimmence. Dani's parents are said to be fans of Jarrod Bowen, as he plays for their favourite team and they support their relationship.
Dani Dyer is a famous English personality, who began her career in television at the age of 10. She is known for winning the fourth season of the popular series Love Island. In 2021, she made the headlines all over again after the rumours of her relationship with Bowen sparked.
It won't be a lie if we tell that Dani is way more famous than her boyfriend, having over 3.4 Million followers on Instagram. Now let's take a closer look into Dani Dyer's biography and learn everything there is to know about her.
Dani Dyer was born on August 8, 1996, so her age is 26. She is the same age as her boyfriend Jarrod Bowen, who was born on December 20, 1996.
According to Dani Dyer's birthday, her zodiac sign is Leo, which means that she is a real leader in her life. People born under the sign of Leo are known for their generosity and loyalty. They were born to be leaders, as they have great leadership qualities. Leos are usually very honest and confident.
Dani Dyer was born in Newham, London, England. Her nationality is English.
Dani Dyer comes from a famous family. Her mother is Joanne Mas and her father is Danny Dyer, who is a television presenter and an actor. Dani followed her dad's path.
Dani Dyer has a younger sister Sunnie and a younger brother Artie.
Dani Dyer completed her education in England. There is no information if she enrolled in university after graduating from high school.
Dani Dyer began her career in television at the age of 10 as an extra in the 2006 film alongside her father. Dani also appeared as an extra in other films starring her father, including (2009), (2012) and (2013).
Her first independent role was in 2014 in the film . She also appeared in (2015) and (2017).
In 2018, Dani Dyer was announced as a cast member for the ITV2 reality series . Later she walked out of the show on the second day due to dislocating her shoulder.
In 2018, Dani competed in the fourth series of ITV2's . She won alongside Jack Fincham.
In 2021, Dani Dyer began co-hosting a podcast with her father, titled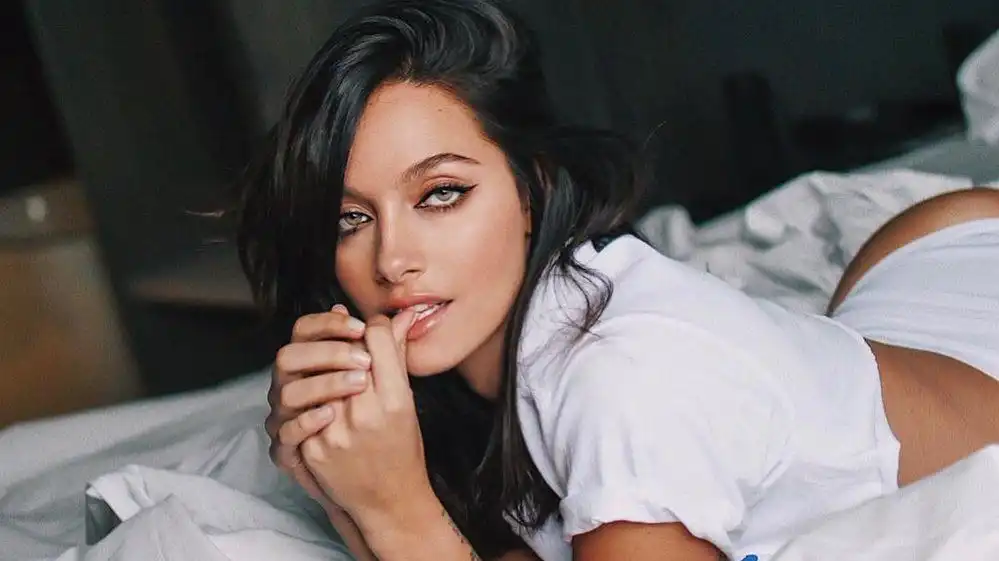 Checkout Paulo Dybala's Hot Girlfriend - Oriana Sabatini
Dani Dyer's net worth is estimated to be over £1.7 Million ($1.5 Million).
Jarrod Bowen's net worth is estimated to be over $4 Million. Bowen's annual salary at West Ham United is £5,000,000 and he earns £96,154 per week, making him one of the highest-paid West Ham players.
Dani Dyer is very popular on social media. She has gained over 3.4 Million followers on Instagram, where she is very active. Dyer posts mainly lovely snaps of her child and videos of her podcast.
You can check Dani Dyer's Instagram here, she goes by the nickname @danidyerxx.
Dani Dyer is also very famous on Twitter with over 300K followers.
Dani Dyer's height is 5 ft 1 in (1.55 m) and her weight is around 50 kg (110 lbs). Dani has blonde hair and brown eyes. Currently, Dani Dyer doesn't have tattoos on her body.
Dani Dyer has one child. She has a son.
On January 23, 2021, Dani Dyer gave birth to Sammy Kimmence's son, Santiago.
Dani and Sammy dated for three years before splitting up in 2021 after Kimmence was jailed for 3½ years after scamming two elderly men out of £34,000.
Dani Dyer dated Jack Fincham, while they were on the show Love Island. Later in 2018, they split and Dani was pictured with Sammy Kimmence.
Things looked very good for the couple and in 2020 they announced that they were expecting their first child. However, in 2021 after Kimmence was sentenced to prison the couple split.
In late 2021, Dani started dating the West Ham United star Jarrod Bowen.