Kate Ferdinand is the stunning wife of the Manchester United legend, Rio Ferdinand.
Rio Ferdinand is one of the most famous Manchester United defenders of all time. The former English international won many major trophies with the Red Devils including six Premier League titles and one Champions League title.
Ferdinand is a real Manchester United legend, but today we decided to take a closer look into his personal life and find out more about his beautiful wife.
Here you will find out everything there is to know about Rio Ferdinand's wife, Kate Ferdinand.
Rio Ferdinand is married to the beautiful Kate Wright. Rio and Kate started dating in 2017.
On September 27, 2019, Rio Ferdinand and Kate Wright tied the knot in a lavish wedding ceremony at the five-star luxury D Maris Bay hotel in Turkey. The guests at the wedding were the couple's closest friends and family.
Kate wore a beautiful wedding dress, but just a week before the wedding she had a real nightmare with the wedding dress. The original dress turned out to be a disaster and Kate had to find a solution days before her big day, but eventually everything turned out to be great and she looked fabulous in her wedding dress.
Actually, Kate is the second wife of Rio Ferdinand. The former Manchester United defender was previously married to Rebecca Ellison.
Rebecca and Rio started dating during his early days with Manchester United and in 2009 they got married in a private wedding ceremony.
Unfortunately, Rebecca died from breast cancer in 2015, which left Rio a single father to three kids.
Kate Ferdinand is mostly known for being the wife of the former English international and Manchester United legend, Rio Ferdinand.
Kate is also a TV personality, known for her work at .
Now let's take a closer look into Kate Ferdinand's biography and learn everything there is to know about her.
Kate Ferdinand was born on June 3, 1991, so her age is 31.
According to her birthday, Kate Ferdinand's zodiac sign is Gemini, which means that she has the ability to communicate with others. Usually people born under the sign of Gemini are energized by the world around them and they can create insightful observations with ease.
Kate Ferdinand was born in Essex, United Kingdom, meaning that her nationality is British.
Kate's maiden name was Wright, before she tied the knot with Rio and took his name.
Kate Ferdinand's mother is Jacqueline and her father's name is Phil. Kate's parents are divorced and her father, who is an electrician, has been married several times.
Kate and her father have been estranged from each other for many years, but Kate invited him to walk her down the aisle when she got married to Rio Ferdinand.
Kate has one sibling, a brother, Jack Noseworthy.
Kate Ferdinand's education is under review at the moment, so stay tuned for further information.
Kate has not disclosed any info regarding her education, so we can only assume that she went to school in her hometown.
Kate Ferdinand is a British author and fitness influencer. She is mostly known for her book.
Kate gained most of her popularity when she appeared on .
Kate is also a successful business woman as she launched an E-Commerce fashion store called 'Miss Pap'.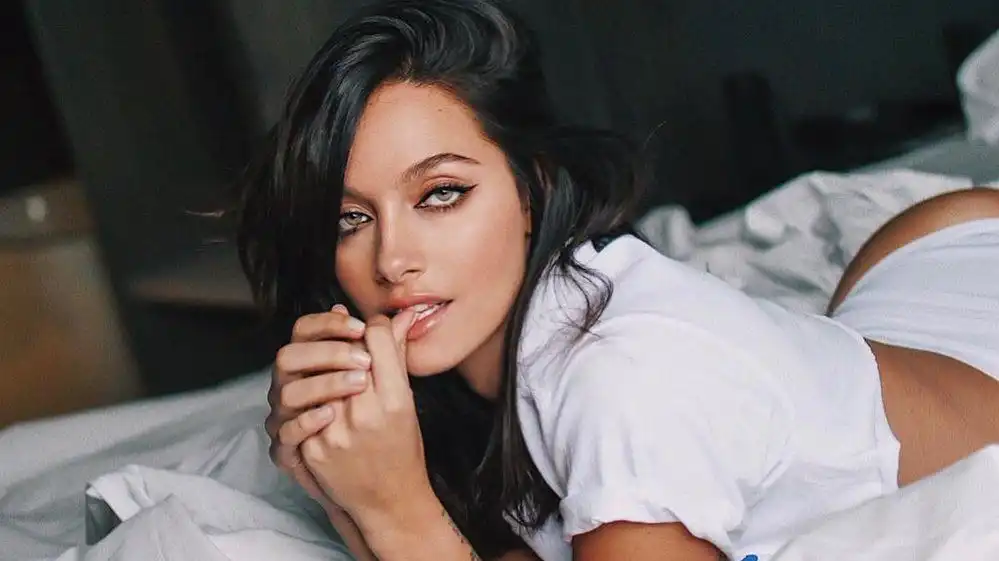 Checkout Paulo Dybala's Hot Girlfriend - Oriana Sabatini
Kate Ferdinand's net worth is very significant, but considering the fact that she is a successful author and an Instagram star it is not surprising.
Kate Ferdinand's net worth is estimated to be over $1 Million. Kate's salary is unknown.
Rio Ferdinand's net worth is also very significant, as he is one of the most famous pundits of BT. Rio Ferdinand's net worth is estimated to be over $75 Million.
Ferdinand's annual salary as a BT pundit is $7 Million.
Kate Ferdinand gained her popularity after she started dating Rio Ferdinand and the fans just love her. She is a true treasure as she tries to keep the memory of Rebecca alive and her followers really appreciate it.
Kate is very popular on social media. She gained over 1.4 Million followers on Instagram. Kate posts workout videos on Insta, inspiring her followers to be more active and live a healthy life.
You can check Kate Ferdinand's Instagram here.
Kate also has a Twitter account, but she hasn't been active there for a very long time. However, you still can check it here.
Kate Ferdinand has an amazing body. She has the perfect curves, but to maintain her body Kate puts in a lot of effort. She trains regularly and she is trying to eat as healthy as possible.
Kate actually did not like her body for a long time. Kate has been fighting a 15-year battle with body dysmorphia, anxiety and cripplingly low self-esteem, which she's had therapy to overcome.
Kate Ferdinand's height is 5 feet and 8 inches (172 cm). Kate Ferdinand's weight is around 68kg.
Her body build is slim.
Kate and Rio have one child together, but he has three children with his beloved wife, Rebecca Ellison.
In 2006, Rebecca gave birth to Rio Ferdinand's first son, Lorenz Ferdinand.
Two years later, Rebecca gave birth to Rio's second son, Tate Ferdinand.
In 2011, they welcomed their third child, a daughter Tia Ferdinand.
In 2020, Rio and Kate announced that they were expecting their first child together. In December 2020, Kate gave birth to Rio's third son, Cree Ferdinand.