Douglas Luiz is dating Women's star Alisha Lehmann, who is one of the most famous and trending football players in the world. Alisha and Douglas are probably the cutest couples of recent and they are both Aston Villa players. In this article you will learn everything there is to know about Alisha Lehmann including her birthday, zodiac sign and so much more. Read on to learn many more facts about Douglas Luiz's girlfriend.
Douglas Luiz is s Brazilian football player, who plays for Aston Villa and the Brazil national team. Luiz joined Villa in 2019 from Manchester City. Luiz had a difficult time with the Citizens, not having a single competitive match during his time at the club.
Douglas Luiz might be a real Premier League star, being just excellent for Villa, but it is his stunning girlfriend, who has over 5 Million followers on social media. The fans just love the stunning Swiss international and can you blame them.
Douglas Luiz is in a relationship with the Aston Villa WFC star Alisha Lehmann. Douglas and Alisha started dating in late 2021. They confirmed their relationship on Instagram when Alisha Lehmann posted a boomerang video on her Insta stories kissing the Aston Villa midfielder.
The Brazilian international also posted the same video adding "Princess". The fans were very delighted with the fact that Luiz and Lehmann are dating. One user even commented: "Dougie Luiz & Alisha Lehmann dating is adorable. Villa love."
Douglas Luiz and Alisha Lehmann's relationship comes almost a year after she broke up with the Paris Saint-Germain ace and Swiss international teammate Ramona Bachmann.
Alisha Lehmann is a professional football player, who currently plays for Aston Villa WFC and the Switzerland national football team. She is one of the most famous football players among women. Alisha made the headlines in 2021 after confirming her relationship with Aston Villa star Douglas Luiz.
Now let's take a closer look into Alisha Lehmann's biography and learn everything there is to know about her.
Alisha Lehmann was born on January 21, 1999, so her age is 23.
According to her birthday, Alisha Lehmann's zodiac sign is Aquarius, which means that she is a very determined and ambitious person. Usually, people born under the sign of Aquarius are known for their impetuous characters.
Alisha Lehmann was born in Tägertschi, Switzerland, meaning that her nationality is Swiss.
Alisha Lehmann is the daughter of Sarah Guggisberg, who is her mother. There is no information about Alisha Lehmann's father. She is very private about her personal life and doesn't like to share many details about her parents.
Alisha Lehmann has one brother and one sister, Shona Lehmann
Alisha Lehmann completed her education in Switzerland. She successfully graduated from high school, but later chose to pursue her dream of becoming a professional football player and she did not enrol in the university.
Alisha Lehmann started playing football at the age of 5. She had to take a break from football during her time in high school but shortly she regained her sports habits. Alisha Lehmann admitted that it was her brother and cousins, who encouraged her to follow her dream and become a professional footballer.
Alisha Lehmann started from the youth academy of FC Konolfingen. By the age of 16, she was already playing for the Swiss team BSC YB Frauen. Lehmann spent two years with the club before moving to London to sign with West Ham United. It was reported that West Ham manager Matt Beard, West Ham United Women manager at the time, had been impressed by Lehmann's performances at the 2018 UEFA Women's Under-19 Championship, which Switzerland hosted.
Lehmann's played extremely well for the Hammers, helping them reach the FA Women's Cup final. Her great performances for West Ham also meant that she was one of the nominees for the WSL Young Player of the Season.
In January it was announced that Lehmann moved to Everton on a loan spell until the end of the season. At the end of the season, Alisha Lehmann joined Aston Villa and manager Carla Ward appreciated her talent by saying that "she can light up any WSL game".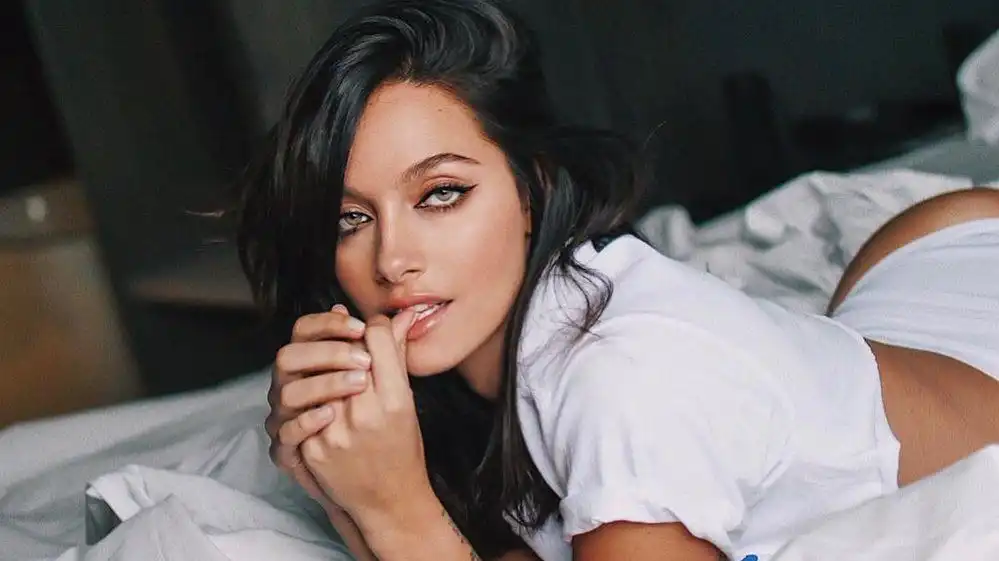 Checkout Paulo Dybala's Hot Girlfriend - Oriana Sabatini
Alisha Lehmann's net worth is estimated to be over $1.5 Million. Alisha Lehmann's salary at Aston Villa is under review at the moment, so stay tuned for further information.
Douglas Luiz's net worth is estimated to be over $7.5 Million. Douglas Luiz annual salary at Aston Villa is £1,709,396 and he earns £32,873 per week.
Alisha Lehmann was in a long-term relationship with her teammate from the Switzerland national team Ramona Bachmann. Alisha and Ramona dated for three years before ending their relationship in early 2021.
Alisha admitted that Ramona was her idol and she was very inspired by her style of play. In 2018 they started their romantic relationship. Ramona and Alisha even moved in to live together until Bachmann decided to move to Paris Saint-Germain.
After ending their relationship they both remained on good terms and they both moved on with their lives. Alisha found love again with Douglas Luiz and things are going pretty well between them.
Alisha Lehmann is one of the hottest football players among women. She has a huge fan base and despite Douglas Luiz being one of the star names in Aston Villa Alisha is the one who has more fans on social media, with 5 Million people following her every move on Instagram.
Alisha Lehman is also a real Tik Tok star with over 4 Million followers. You can check Alisha Lehmann's TikTok account here.
You can also check Alisha Lehmann's Instagram account here, she goes by the nickname @alishalehmann7.
Alisha Lehmann's height is 5 ft 5 in (1.65 cm) and her weight is 52 kg (114 kg). Her measurements are 36-27-34 inches/ 91.44-68.58-86.36 cm.
Alisha has blonde hair and blue eyes. She has several tattoos on her body. Alisha has a tattoo on her neck, arm and leg.