Zoe Cristofoli is the beautiful girlfriend of the Milan star, Theo Hernandez. In the following article you will learn many interesting facts about Zoe, including her date of birth, age, profession and more details on her relationship with Hernandez.
Theo Hernandez quickly became one of the best left-back in the world, despite being so young. Hernandez joined Milan in 2019 from the La Liga giants Real Madrid and he made a name for himself proving to be a trustworthy defender. He fell in love with Italy and more specifically with the club, but also he found love in his personal life as well.
Theo Hernandez is in a relationship with the Italian model Zoe Cristofoli. Theo and Zoe started dating back in June 2020 and everything started after they had dinner with a mutual friend. After the dinner Theo started texting Zoe on Instagram, but she played it tough and didn't reply. He tried his best for a couple of weeks but she still didn't write back until one day when he invited her to dinner and dancing and she agreed.
After a couple of months of dating Theo and Zoe moved in to live together. They seem to love their company a lot and they are not hiding it at all. Both Theo and Zoe are posting pictures of them together. Many even consider Zoe Cristofoli to be Theo Hernandez's wife, but they are still not considering getting married.
Zoe Cristofoli is a renowned model, an Instagram star and a fashion blogger. Zoe does not consider herself an influencer as she does not like that word. She just loves to communicate with people and to share her thoughts with them. Zoe gained even more popularity when she and Theo announced their relationship. Zoe dated many famous men before she settled in with Hernandez. Now let's take a closer look into Zoe Cristofoli's biography and learn as much as possible about her.
Zoe Cristofoli was born on September 5, 1996, so her age is 26. Zoe is one year older than Theo Hernandez.
According to her birthday, Zoe Cristofoli's zodiac sign is Virgo, which means that she is a hardworking, patient and intelligent person. Usually people born under the sign of Virgo are perfectionists and they are very helpful people.
Zoe Cristofoli was born in Verona, Italy, meaning that her nationality is Italian.
Zoe Cristofoli doesn't really love to talk about her family. Zoe's parents got divorced when she was still young, that's why she doesn't talk about it much. Zoe admitted that she has a very strong connection with her mother and they are very close. In recent years she reignited her relationship with her father, saying that both of them made the needed steps in order to make it work.
It is unknown if Zoe Cristofoli has siblings. There are no details if she has brothers and sisters or if she is an only child.
Zoe Cristofoli graduated high school in her hometown in Italy. There is no information on Zoe Cristofoli's further education. It is unknown if she enrolled in university, or she chose to pursue a career in the fashion industry.
Zoe Cristofoli is an Instagram star, who can be defined as an influencer. She is also a fashion blogger and a model. Zoe started her own business and now she is a co-owner of a tattoo studio in Turin. Her biggest passion in life is tattoos and now she is very happy with the fact that she owns a tattoo studio.
Zoe Cristofoli also featured in a music video from 2017 of the Italian singer Omar Pedrini. Another big passion of Zoe is music. She was even a DJ for a while.
Before gaining her popularity Zoe Cristofoli used to work as a babysitter, waitress and even mechanic of motorcycles.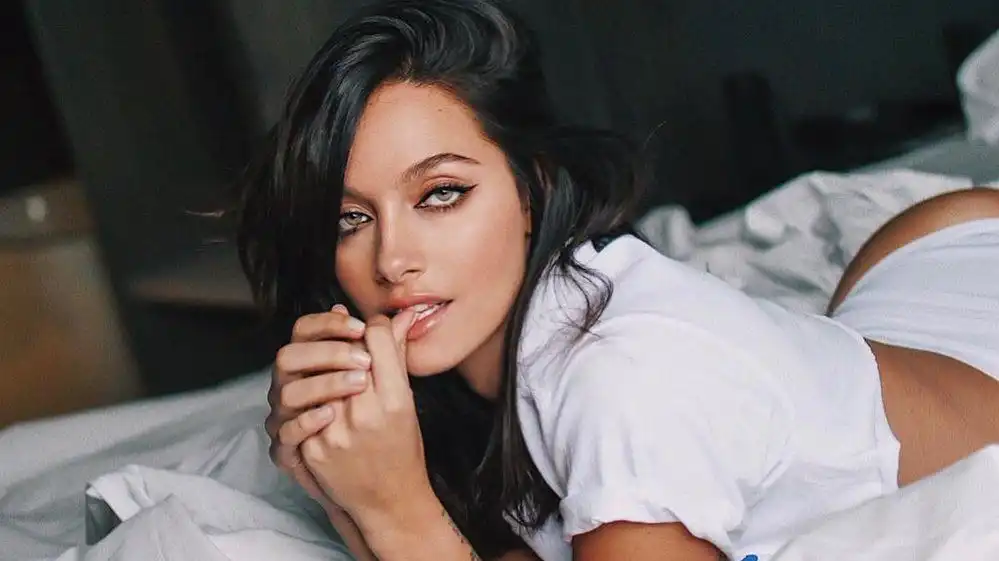 Checkout Paulo Dybala's Hot Girlfriend - Oriana Sabatini
Zoe Cristofoli's net worth is under review at the moment, so stay tuned for further information.
Theo Hernandez's net worth on the other hand is very significant. Hernandez's net worth is estimated to be over €3 Million ($3.5 Million). Theo Hernandez's annual salary is around €1,5 Million and his weekly wage is €28,846. He is not earning as much as his brother Lucas Hernandez, but considering the ways he is playing it won't be a surprise if he signs a new contract for more money.
Zoe Cristofoli is very popular on social media. She gained nearly 1 Million followers on Instagram and her fans love her, as she has a positive influence on them. She likes to share very spicy snaps of herself with her followers.
You can check Zoe Cristofoli's Instagram here, she goes by the nickname @zoe_cristofoli.
Zoe Cristofoli has dated many famous men before she met Theo Hernandez.
In 2014 she had a relationship with the former competitor of Temptation Island, Andrea Cerioli. Their relationship didn't last long and in 2015 Zoe had a brief relationship with Francesco Bordi.
At the beginning of 2018, Zoe modeled for Fabrizio Corona's brand "Adalet" and one thing led to another and she started dating him. Their relationship lasted only a couple of months and in late 2018, Zoe was spotted with Barcelona's player, Sergio Aguero.
Zoe Cristofoli's height is around 5 ft 9 inch (175 cm) and her weight is around 55 kg (121 lbs). Zoe has blonde hair and dark eyes. Zoe's whole body is covered in tattoos. She is known as the Tigress of Verona for her numerous tattoos on her body. Zoe has tattooed the number 17 above her breast, a triangle with the words Music Passion, BAD and 1-12 Juntos hasta el final as well as a woman's face on her left leg and muzzle of a dog. She also has a tattoo for her boyfriend Hernandez, For You...19.
Zoe Cristofoli and Theo Hernandez don't have children, as they are both too young to take that step in their life. Although they have four dogs, which are their babies.