Kevin-Prince Boateng is probably one of the most famous football players of our time.
He has been in many big teams including Tottenham, A. C. Milan and Barcelona. The forward became famous with his strength, footspeed, and ball-juggling tricks.
Boateng has always been in the spotlight and many are interested to learn more about his personal life. So, we decided to take a look into his life outside the pitch and find out more about his wife.
Kevin-prince Boateng was married to the stunning Melissa Satta.
You may wonder why "was". Well, the couple officially separated in December 2020 after four years of marriage.
Boateng and Satta started their relationship back in 2011, and after just couple of months of being together they soon became engaged
However, the only thing they've been rushing with was their engagement, as they didn't tie the knot until June 2016.
Kevin-Prince Boateng and Melissa Satta got married at a lavish wedding ceremony in Porto Cervo, Sardinia.
Just two years after their marriage troubles in paradise began, with the couple's first break up.
They got back together shortly after that, but in 2019 it followed their longest separation.
After getting back together, in December 2020, Melissa and Kevin-Prince Boateng officially announced that they were going to end their relationship.
Melissa is a renowned Italian television presenter.
Despite that, she gained popularity as Kevin-Prince Boateng's wife.
Now, let's take a look into Melissa Satta's biography and learn more about her.
Melissa Satta was born on February 7, 1986, which means that her age is 36.
According to her birthday, Melissa's zodiac sign is Aquarius.
Melissa was born in Boston, Massachusetts, United States, which technically means that her nationality must be American, but Melissa comes from an Italian family, so she has both American and Italian citizenship.
As we already mentioned, Melissa has an Italian origin.
Her parents are both from Sardinia. She is the daughter of Mariangela Muzzu and Enzo Satta.
Melissa's father worked as an architect and he was a Sardinian government and central government politician in politics of Sardinia.
Satta has two siblings, brothers - Riccardo, a business incubator and entrepreneur and Maximilian.
Melissa attended high school in the United States and after she graduated from there she enrolled in the faculty of Communication studies at the private university IULM.
Melissa started her career in the fashion industry at age 16 as a model.
In 2003 Satta reached the finals of the beauty contest and she was crowned with the title of .
Her debut as a television presenter was in 2005 with the television programme
In 2006, she appeared in numerous Mediaset television programs including 2 and
In 2010, she started to appear on the cover of several famous magazines such as Sports Illustrated and she was even on the cover of .
Melissa Satta's net worth is quite significant, but it is normal for such a famous personality.
It is reported that Melissa's net worth is estimated to be around $10.5 million.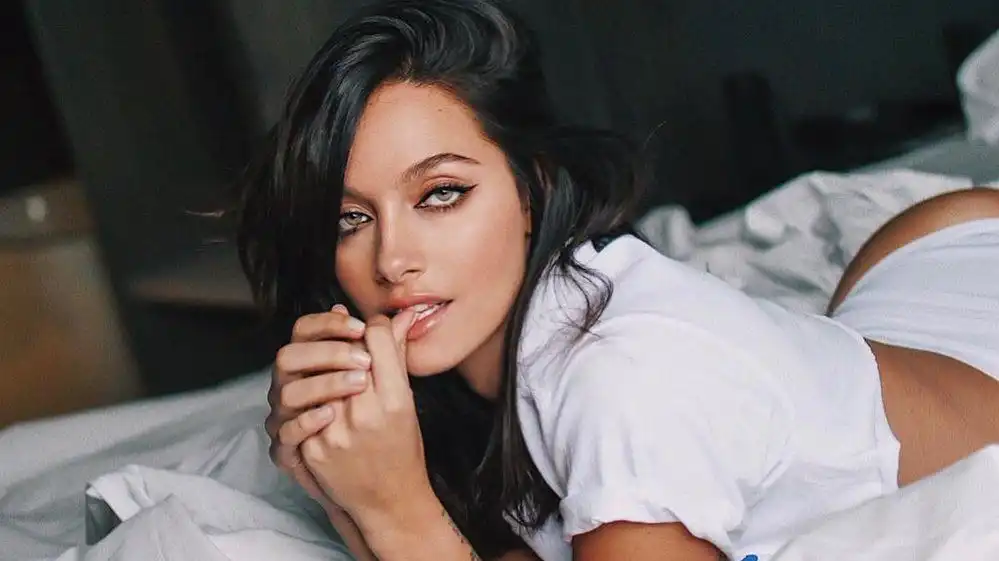 Checkout Paulo Dybala's Hot Girlfriend - Oriana Sabatini
Melissa is very popular on social media.
She has over 4.4 million followers on Instagram, where she posts on the daily basis.
You can check Melissa Satta's official Instagram here.
The Italian beauty is also very popular on Twitter with over 1.4 million followers.
Melissa also has a Facebook page and a YouTube channel.
Such as her partner, Melissa loves the ink and she has several tattoos on her body.
As a matter of fact she has around 11 tattoos some of which are a feather on her side, an Italian, writing on her forearm a star on her bikini line and a tattoo dedicated to her son.
Melissa has dated the Italian television personality Daniele Interrante from 2003 to 2006.
After she ended her relationship with him, she started to date the football player Christian Vieri, but after five years of dating they separated.
She was briefly engaged to the Italian businessman Gianluca Vacchi in 2011.
Melissa was also rumored to have an affair with the basketball legend, Kobe Bryant, as they were photographed entering a hotel late at night.
Well, Melissa has one child.
She gave birth to her son with Kevin-Prince Boateng, Maddox-Prince Boateng, in April 2014.
Kevin-Prince Boateng has another son, Jermaine-Prince Boateng, from his previous marriage to Jennifer Boateng.