Celina Locks is the stunning long-term partner of the Brazilian Legend Ronaldo Luís Nazário de Lima. Celina is a renowned model and a successful entrepreneur. In this article you will learn many interesting things about the Brazilian beauty, so read on to find out everything there is to know about her.
Ronaldo, also known as ("The Phenomenon"), is one of the greatest footballers that ever stepped on the football pitch. He is a true legend of the Brazilian national team. Ronaldo is one of the most loved strikers in the world, who brought a new dimension to the position. The Phenomenon has been an influential figure for a generation of strikers that have followed.
Ronaldo is in a long-term relationship with the Brazilian model, Celina Locks. Ronaldo and Celina started dating back in 2015 and they have been together ever since then. Many believe that Celina Locks is Ronaldo's wife since they are dating for so long.
Ronaldo is a person who is familiar with married life. He had been married three times in his life. Ronaldo's first wife is Milene Domingues. They were married from 1999 to 2003. Ronaldo and Milene have one child together, Ronald Domingues Nazário de Lima, who was born on April 6, 2000.
Ronaldo's second marriage was with Daniella Cicarelli, but it didn't last for long. Everyone thought that his third marriage, with Maria Beatriz Antony, would be successful, but it lasted only four years from 2008 to 2012. They have two children together. In December 2008, Maria gave birth to Ronaldo's first daughter Maria Sophia Nazário de Lima. On April 6, 2010, they welcomed their second daughter, Maria Alice Nazário de Lima.
Ronaldo has four children, as he shares a son with Michele Umezu, a Brazilian waitress who Ronaldo first met in Tokyo in 2002. Their son, Alexander Nazário de Lima was born in April 2005. Ronaldo decided that four is enough for him and in December 2010 he announced that he had had a vasectomy.
Celina Locks is a famous Brazilian model and a successful entrepreneur, who has her own business. She is also known for being the long-term partner of the Brazilian legend, Ronaldo.
Now, let's take a closer look into Celina Locks' biography and learn everything there is to know about her.
Celina Locks was born on March 4, 1990, so her age is 32. According to her birthday, Celina Locks' zodiac sign is Pisces, which means that she is a very creative and dreamy person. Usually, people born under the sign of Pisces are known for being very talented and romantic.
Celina Locks was born in Brazil, meaning that her nationality is Brazilian such as her husband's.
Celina Locks is a private person who doesn't like to talk about her personal life. She hasn't disclosed any information regarding her parents. It is unknown who her mother and father are.
Celina Locks has one sibling. She has a brother, Caio Locks, with whom she shares the same birthday.
Celina Locks completed her education in Brazil and she was a very good student. It is unknown if she enrolled in university after graduating from high school or she chose to pursue a modelling career.
We believe that she chose to become a model, rather than continuing her education because she dreamed of it since she was a child.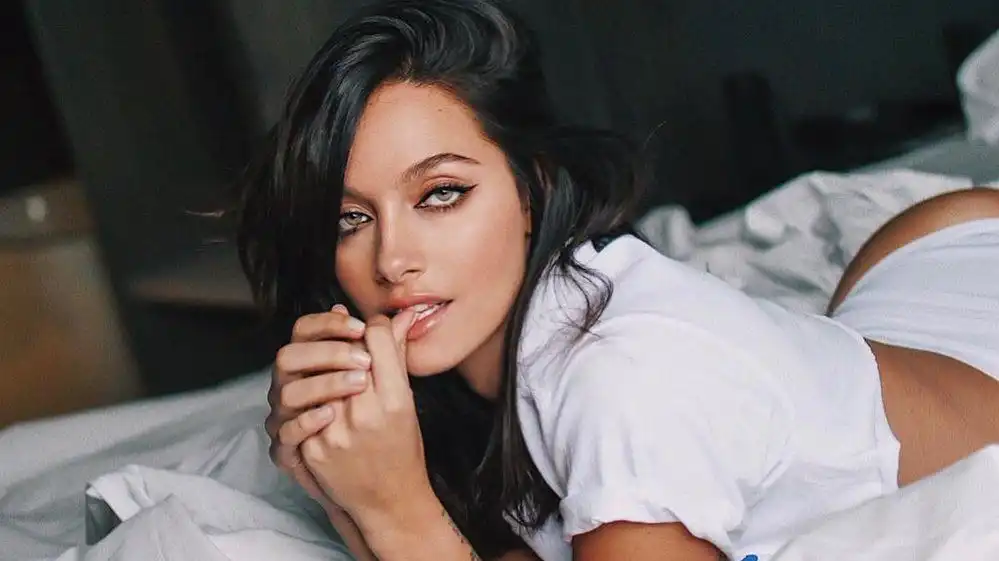 Checkout Paulo Dybala's Hot Girlfriend - Oriana Sabatini
Celina Locks is a professional model and a successful entrepreneur. She has been on the cover of many famous magazines and she has been on the catwalk on many fashion shows. She is regular at the Paris Fashion Week. She worked with Vogue, Bazaar, L'official, Cosmopolitan and Dior.
Celina also has her care brand, which specializes in hair products. Her brand is called Celina Locks Beauty.
Celina Locks' net worth is estimated to be over $2 Million. She made most of her wealth from her career as a model and her successful business.
Ronaldo's net worth is quite significant. Ronaldo The Phenomenon's net worth is estimated to be over $160 Million. He made his wealth during his time as a football player, but also from his successful business strategy. Ronaldo became the majority owner of La Liga club Real Valladolid after buying a 51% controlling stake in the club for €30 million.
Celina Locks is very popular on social media. She gained most of her popularity after starting dating the two time Ballon d'Or winner, Ronaldo. She posts mainly pictures of herself in a bikini, but she also uses her platform to raise awareness for social problems.
You can check Celina Locks' Instagram here, she goes by the nickname @celinalocks.
Celina Locks' height is around 5 ft 8 in (178 cm) and her weight is around 55 kg (121 lbs). She has blonde hair and blue eyes. Currently, Celina Locks doesn't have tattoos on her body.