Mishel Gerzig is the new stunning girlfriend of the Real Madrid star, Thibaut Courtois. The rumours of their relationship were all around the internet in the beginning of 2021 and they finally announced that they were dating. In the following article you will find many interesting facts about Mishel Gerzig including her date of birth, zodiac sign, place of birth and so much more, so continue reading in order not to miss anything.
Thibaut Courtois doesn't need much of an introduction as his performances on the pitch speaks for itself. Courtois is one of the best goalkeepers of his time and he has been incredible for Real Madrid. He might have achieved many great things in his professional life, but he had some struggles in his personal life in the past couple of years. Mishel turned out to be the person who solved the problems in Courtois' love life.
Thibaut Courtois is in a relationship with the stunning Israel model, Mishel Gerzig. Thibaut and Mishel started their relationship in the beginning of 2021. They were first seen in the early months of 2021 having dinner at a Spanish restaurant and their picture together was all over the internet. In August the couple officially announced that they were together and the fans went crazy.
Before Courtois began dating Mishel he was in a long-term relationship with Marta Dominguez. Marta and Courtois have two children together, Adriana and Nicolas. Marta and Courtois separated because the Belgian stopper had cheated on her several times.
Mishel Gerzig is a renowned Israel model and an Instagram star. She gained even more popularity after she started dating the Belgian goalkeeper and Real Madrid star, Thibaut Courtois.
Let's take a closer look into Mishel Gerzig's biography and learn as much as possible about her.
Mishel Gerzig was born on June 5, 1997, so her age is 25. Mishel is five years younger than Thibaut Courtois.
According to her birthday, Mishel Gerzig's zodiac sign is Gemini, meaning that she is a very social person, who is very jovial and friendly. Usually people born under the sign of Gemini are very outgoing with a great sense of humor and they make friends easier.
Mishel Gerzig was born in Israel, meaning that her nationality is Israeli. Mishel is currently living in Spain.
Mishel Gerzig is actually pretty private about her personal life and she doesn't like to share any details about her family. Mishel has not disclosed any information regarding her parents. It is unknown who her mother and father are, but apparently they did an amazing job in raising their daughter right. While she was growing up, Mishel had nothing but support and love from her parents.
Mishel has one sibling, a sister, Elen. Mishel is very close with her sister and they share a special bond between them.
Mishel Gerzig graduated high school in her hometown in Israel. She was a very good student and she was one of the teachers' favourite students. There is no further information about Mishel Gerzig's education. It is unknown if she enrolled in university or she chose to pursue her career as a model.
Mishel Gerzig is a professional model, Instagram star and influencer. She started her modeling career from a young age and at the moment she is one of the most successful Israeli models. Mishel works for .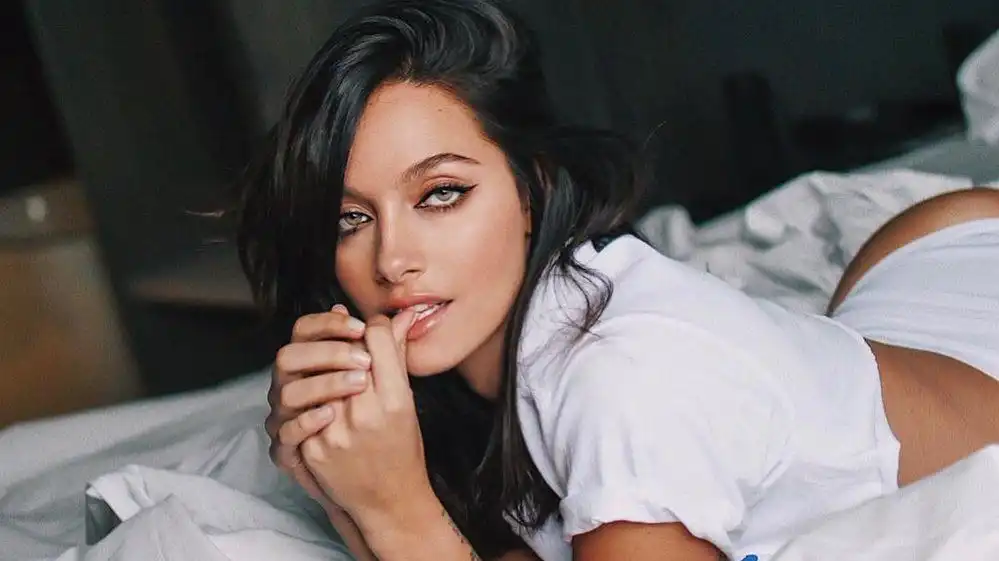 Checkout Paulo Dybala's Hot Girlfriend - Oriana Sabatini
Mishel Gerzig's net worth is under review at the moment, so stay tuned for further information. We are working on finding more details on Mishel's wealth.
Thibaut Courtois' net worth is very significant, as it is estimated to be over €111 Million. Thibaut Courtois' annual salary is around €7.2 Million per year and his weekly wage is €138,461.
Mishel Gerzig is very popular on social media. She has gained thousands of followers who love her very much as she has a very positive influence on them. Mishel uploads very provocative pictures of herself. She shows her beauty in her Instagram posts.
You can check Mishel Gerzig's Instagram here, she goes by the nickname @mishelgerzig.
Mishel Gerzig's height is 5 ft 8 inch (178 cm) and her weight is around 55 kg (121 lbs). Her body measurements are 90-94-64 (bust-hips-waist). Mishel Gerzig's shoe size is 38 EU. Mishel has blonde hair and blue eyes.
Mishel Gerzig is a gym lover and she spends a great deal of her time in the gym, working out. She trains regularly, trying to maintain her body weight. Mishel is on a healthy diet that is structured for her goals.