Yolanthe Cabau is a Spanish-Dutch actress, model and television host. She is also the stunning wife of the former footballer Wesley Sneijder, but there was trouble in paradise as in 2019 the couple separated. In this article you will learn everything there is to know about Wesley Sneijder's wife, Yolanthe Cabau, so read on to find out more interesting facts about her.
Wesley Sneijder is a retired professional football player, who played for Real Madrid and Inter Milan. In his first season with Los Blancos, Sneijder won the La Liga and in 2009, Inter Milan bought him for €15 Million. In 2010, Wesley Sneijder was named UEFA midfielder of the season, and one of the three best midfielders in the world by FIFA. Sneijder achieved heights in his professional career that many other footballers only dream of, but in this article, we will focus more on his personal life.
Wesley Sneijder has been married to Dutch-Spanish actress and presenter Yolanthe Cabau van Kasbergen since July 2010, although the couple made it clear that there was not (yet) going to be a divorce.
Wesley and Yolanthe met in 2009, soon after the former Dutch international divorced from his first wife, Ramona Streekstra. Cabau and Sneijder got married in July 2010 in Tuscany, Italy, six days after Sneijder played the final of the FIFA World Cup. In March 2019 the couple announced their separation.
Yolanthe Cabau is a model, actress and television host. She also has her own brand Cabau Lifestyle. Yolanthe Cabau is also known for being the wife of Wesley Sneijder. Now let's take a closer look into Yolanthe Cabau's biography and learn everything there is to know about her.
Yolanthe Cabau was born on March 19, 1985, so her age is 37. According to her birthday, Yolanthe Cabau's zodiac sign is Pisces, which means that she is a very creative, dreamy and talented person. Usually, people born under the sign of Pisces are known for being very empathetic and romantic.
Yolanthe Cabau was born in Ibiza, Balearic Islands, Spain. Yolanthe's nationality is Dutch-Spanish, as her mother is Dutch.
Yolanthe Cabau grew up in a wealthy family, as her father, Xavier Cabau was a successful entrepreneur. Yolanthe's mother, Richarda "Rici" van Kasbergen, is Dutch. Her father was known as the "King of Ibiza", who owned several discothèques, restaurants, and bars.
Yolanthe didn't have the blissful childhood you would imagine as it was marked by domestic violence after her father experienced financial problems and became addicted to drugs. Her parents got divorced and Yolanthe moved with her mother to the Netherlands.
The Spanish-Dutch beauty has seven siblings, as well as five half-siblings from her father's second marriage.
Yolanthe Cabau completed her education in the Netherlands. After she graduated from high school at the age of 17, she decided to pursue a career as an actress.
Yolanthe Cabau started her acting career in 2004 when she appeared in the Dutch production In 2005, she appeared in Costa!. Yolanthe had a recurring role in the soap opera from 2005 to 2008.
Her big break was in 2006 when she starred in the short film For her role in the short film, she was nominated for a Gouden Kalf, the Dutch equivalent of an Academy Award. Yolanthe received public backlash for her role because she had to do a controversial sex scene. Later, she admitted that she regretted doing the scene.
Yolanthe Cabau appeared in the third season of the dramedy , similar to the British series In 2013, Yolanthe starred in Pain & Gain, as Annalee Calvera, alongside with Mark Wahlberg.
Recently, she launched her brand, , for sportswear and her mission with that project is to inspire and motivate women to become stronger. She is also the founder of Free A Girl, which is a nonprofit organization that is fighting the sexual exploitation of minors.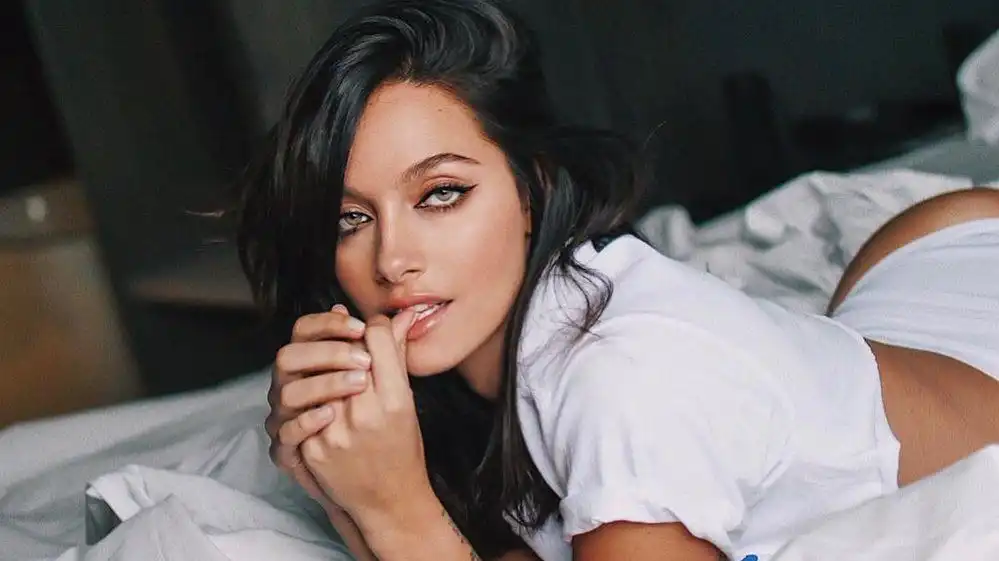 Checkout Paulo Dybala's Hot Girlfriend - Oriana Sabatini
Yolanthe Sneijder-Cabau's net worth is estimated to be over $1.5 Million. She made most of her wealth from her career as an actress, but also her business.
Wesley Snijder's net worth is estimated to be over $38 Million. The Sniper made most of his wealth from his career as a professional football player.
Yolanthe Cabau is one of the most influential WAGs and her audience is huge. She has over 1.3 Million followers on Instagram and they are continuing to grow daily. She posts mostly pictures of herself or her child. She tries to inspire as much as possible people to do better in life.
You can check Yolanthe Cabau's Instagram here, she goes by the nickname @yolanthecabau.
Yolanthe Cabau's height is around 5 ft 5 in (1.60 m) and her weight is around 55 kg (121 lbs). She has brown hair and brown eyes. Currently, Yolanthe Cabau doesn't have tattoos on her body.
Yolanthe Cabau and Wesley Sneijder have one child together. They have a son. In 2015, Yolanthe Cabau gave birth to Wesley Sneijder's son, Xess Xava Sneijder.
Wesley has another son from his previous marriage with Ramona Streekstra. In 2006, Ramona gave birth to Wesley's first son, Jessey Sneijder.