Joana Sanz, a supermodel who has appeared for Jimmy Choo and Gucci, turned down two marriage proposals before tying the knot with Dani Alves. In this article you will find many interesting facts about the stunning supermodel Joana, so read on in order not to miss anything.
Dani Alves is one of the most famous Brazilian players of all time. Alves is considered as one of the greatest right-backs of all time and he is the most decorated player in the history of football and the second most decorated defender of all time in European competitions. Dani Alves also known as The Tarantula is a real legend of Barcelona. Currently he is playing for the Brazilian club São Paulo FC. Alves is also a very lucky man having a wife like Joana Sanz.
Dani Alves is married to the supermodel Joana Sanz. Dani and Joana met back in 2015 after they were introduced by a mutual friend. At the time Alves was still playing for the La Liga giants Barcelona. The pair hooked up a year later, after Dani won Serie A and the Coppa Italia and got to the final of the Champions League with Juventus.
In 2017, Dani Alves and Joana Sanz flew to Ibiza for a holiday, where they actually got married in a secret wedding ceremony. They tied the knot on the island of Formentera, but there is no information about the attendance or what went on. Both of them remained very silent about their wedding despite posting a couple of snaps on social media.
An interesting fact about Joana and Dani's relationship is that she turned down two marriage proposals of Dani before finally saying 'Yes' to the third one. Joana has always been very supportive of Dani and she followed him everywhere, traveling almost all around the world, accompanying him.
Joana Sanz is a supermodel, an Instagram star and a social media influencer. She is also known for being the wife of the Brazilian legend Dani Alves.
Now let's dig in deeper into Joana Sanz's biography and learn more interesting facts about her.
Joana Sanz was born on June 9, 1993, which means that her age is 29. According to her birthday, Joana Sanz's zodiac sign is Gemini, which means that she is a very friendly, adaptable and intelligent person. Usually people born under the sign of Gemini are with a great sense of humor and they are social creatures.
Joana Sanz was born inTenerife, Canary Islands, Spain, which means that her nationality is Spanish.
Joana Sanz is very private about her personal life and she has not disclosed any information regarding her parents. It is unknown who her mother and father are, but clearly they were very supportive and loving towards her. There is also no information about her siblings. We don't know if she has brothers and sisters or if she is an only child.
Joana Sanz graduated high school in her hometown in Spain. She spent most of her life in Spain. Her parents always motivated and inspired her to move forward and follow her dreams. There is no information if Joana Sanz enrolled in university after her graduation from high school or if she chose to pursue a career in the modeling industry.
Joana Sanz started in the fashion world after participating in the Supermodel of The World contest at the age of 17. The contest was organized by a prestigious American modeling agency.
Soon after taking part in the contest, Joana's career as a model grew and she starred in campaigns such as Jimmy Choo, YSL Beauty, L'Oréal hair, Philip Plein sunglasses, Yamamay, Ermanno Scervino, Sony Xperia, Samsung camera.
Currently Joana works with brands like Calzedonia, Etam, Lanvin, Reem Acra, Zuhair Murad Haute Couture, Ralph & Russo Haute Couture , and is a regular on all Spanish catwalks.
Joana Sanz also was on the cover of many famous magazines including Elle, Icon, Woman, Mujer Hoy, Yodona, GQ, Vogue Arabia special Haute Couture and Hola Fashion.
The supermodel even won the Revelation Model award at the 62nd edition of Fashion Week Madrid .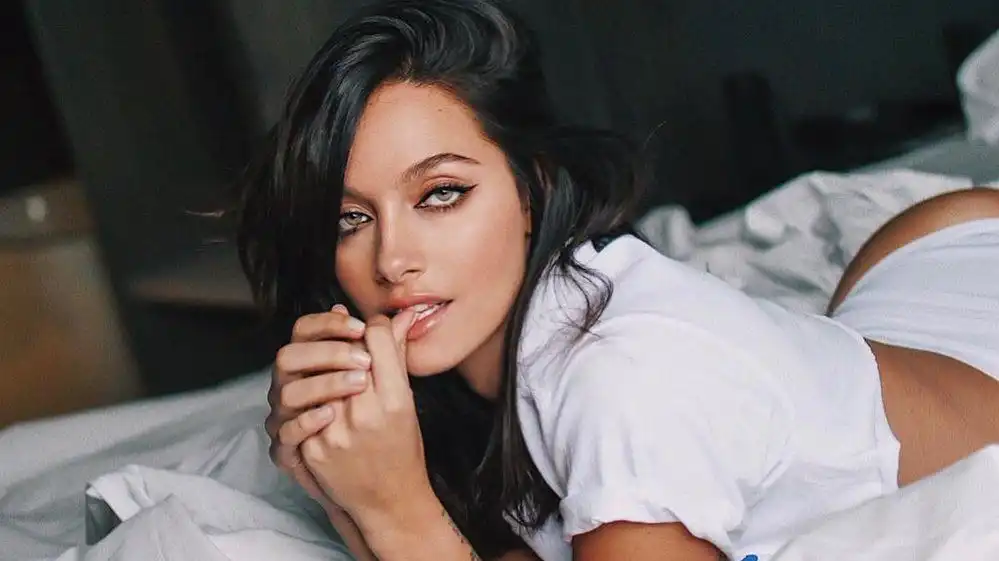 Checkout Paulo Dybala's Hot Girlfriend - Oriana Sabatini
Joana Sanz's net worth is estimated to be around $1 Million. She made most of her wealth from her career as a model.
Dani Alves's net worth is quite significant. Alves' net worth is estimated to be over $60 million. Dani Alves' annual salary is around $3,4 Million and his weekly wage is $66,503.
Joana Sanz is very popular on social media. She is a real Instagram star, who is also an influencer. Her fans love her as she has a very positive impact on them. She posts mainly pictures of herself as well as lovely snaps of her and Dani.
You can check Joana Sanz's Instagram here, she goes by the nickname @joanasanz.
Joana Sanz's height is 5 ft 11 inch (180 cm) and her weight is around 62 kg (137 lb). Her body measurements are 33-23-35. Joana shoe size is 39 (EU) or 8,5 (US). Joana has dark brown hair and brown eyes.
Joana Sanz and Dani Alves don't have children together.
Dani Alves on the other hand has two children from his previous marriage to Dinora Santana. He has a son, Daniel Alves and a daughter, Victoria Alves.