Sharon Canu is the stunning long-term girlfriend of the England legend Ashley Cole. Sharon and Ashley have two children together and very soon they are expected to go down the aisle. In this article, you will learn everything there is to know about Sharon Canu, so read on to find out many interesting facts about her.
Ashley Cole is one of the most famous defenders of all time. Cole is recognized as one of the best footballers of his generation, but his reputation off the pitch is quite controversial. The former Chelsea and Arsenal player was accused not once or twice for cheating on his ex-wife, the famous singer, Cheryl Tweedy. Thanks to Sharon, Ashley completely transformed his behaviour and became the dream man and father.
Ashley Cole is in a long-term relationship with the Italian model Sharon Canu. Ashley and Sharon met back in 2014 when the former England international joined Roma. Soon after they first met each other, Cole and Canu started dating and she moved to live with him.
Of course, when Ashley Cole moved to La Galaxy, Sharon Canu followed him to Los Angeles. Recently, rumours have sparked that Cole proposed to Sharon Canu and now she is about to become his wife.
Ashley Cole admitted that being with Sharon completely transformed him. He is known for his reputation with women, but after he started dating Canu, Cole wanted to do the right thing with her. Now, when he has two children it is more likely to see him pushing a pram around than coming out of a nightclub.
"It's a different me, I'm more of a family man now. You won't see me in nightclubs anymore, you'll see me at a park pushing my kids," told Cole in an interview with Daily Telegraph.
Sharon Canu is a model and a devoted mother. Sharon is mostly known for dating the Chelsea legend. Now, let's take a closer look at Sharon Canu's biography and learn everything there is to know about her.
Sharon Canu was born on March 28, but the years of birth is unknown. We believe that Sharon must be in her 30s.
Sharon Canu's zodiac sign is Aries, which means that she is a confident and determined person. Usually, people born under the sign of Aries are known for their honesty and their great leadership qualities. Those kinds of people are very ambitious and they achieve almost every goal they set.
Sharon Canu was born in Rome, Italy, meaning that her nationality is Italian. After she met, Cole, Sharon left her hometown and moved to live with him in England.
Sharon Canu is a very private person and she doesn't like to share any personal information. She hasn't disclosed any info regarding her parents, so it is unknown who her mother and father are.
Sharon Canu has one sibling. She has a sister, Valentina Canu.
Sharon Canu completed her education in Rome, Italy. It is unknown if she enrolled in university after graduating from high school.
Sharon Canu is a model and she has done many photoshoots in her career. In recent years she stopped working as a model and focused more on her family.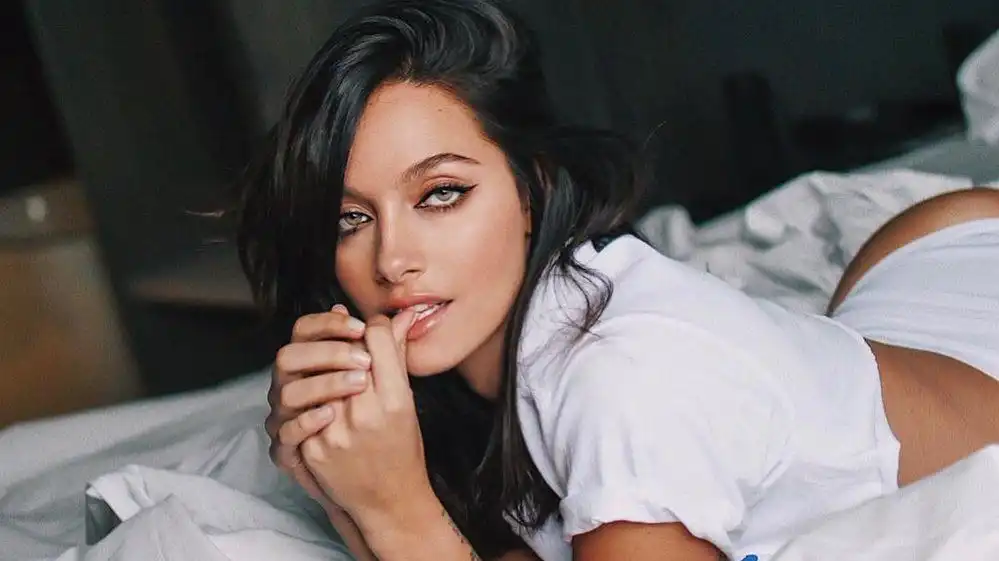 Checkout Paulo Dybala's Hot Girlfriend - Oriana Sabatini
Sharon Canu's net worth is under review at the moment, so stay tuned for further information.
Ashley Cole's net worth is estimated to be over $50 Million. He made most of his wealth during his time as a professional football player.
Sharon Canu is not one of those WAGs that is constantly on Instagram. She has an Insta profile, but she posts mainly pictures of her lovely children. Sharon is a private person and she likes to maintain a low profile on social media.
You can check Sharon Canu's Instagram here, she goes by the nickname @sharoncanu. On Instagram, Sharon is followed by Stilyan Petrov's wife, Paulina Petrova.
Sharon Canu's height is around 5 ft 7 in (170 cm) and her weight is around 55 kg (121 lbs). Sharon has blonde hair and brown eyes. She has several tattoos on her body. She has a tattoo on her leg and her arms.
Sharon Canu and Ashley Cole have two children together. They have a son and a daughter.
In 2016, Sharon Canu gave birth to Ashley Cole's son, Jaxon Cole. Two years later, in 2018, the couple welcomed their daughter, Grace Cole.
Ashley Cole was previously married to the famous British singer, Cheryl. Cole and Cheryl were together from 2004 until 2010. The couple were often compared to Posh and Becks.
Cole and Cheryl got married on 15 July 2006 in Wrotham Park, Hertfordshire in a lavish wedding ceremony that cost them £500,000. Later they sold the wedding rights to OK! magazine for a reported £1 Million.
Everything seemed perfect until Cheryl's mom Joan moved in to live with them.
In January 2008, Cheryl and Ashley Cole were about to separate after allegations were made that the England international had affairs with three other women. He denied those allegations, but it was clear that Cole and Cheryl's romance began to unravel.
In February 2010, the couple separated and in June the same year, Cheryl announced that she was filing for divorce. Ashley Cole and Cheryl officially divorced on September 3, 2010.