Football, often referred to as the beautiful game, has witnessed the rise and fall of countless players over the years. These players have left an indelible mark on the sport, etching their names into the annals of history. While opinions about the greatest footballers of all time may vary, there are certain players whose greatness transcends time, eras, and borders. In this article, we will take a closer look at some of the top-ever players in football, recognizing their remarkable contributions to the sport.
Edson Arantes do Nascimento, better known as Pelé, is often regarded as one of the greatest footballers to have ever graced the pitch. Hailing from Brazil, Pelé was a three-time FIFA World Cup winner and remains the only player to achieve this feat. His incredible dribbling, goal-scoring ability, and charisma made him a global icon and a symbol of Brazilian footballing excellence.
Pelé's impact on the world of football goes beyond just his remarkable records and achievements; he is often affectionately referred to as the "King of Football." Born in 1940 in Três Corações, Brazil, Edson Arantes do Nascimento, affectionately known as Pelé, would go on to become a global icon and an ambassador for the sport.
Unprecedented Success: Pelé's career was marked by unparalleled success. He won his first FIFA World Cup with Brazil in 1958 at the age of just 17, becoming the youngest ever to do so. He went on to win two more World Cups in 1962 and 1970, firmly establishing his place as one of the greatest players in history. Scoring Records: Pelé's goal-scoring prowess is nothing short of legendary. He scored over 1,000 official career goals, a feat unmatched by any other player. His ability to find the back of the net, whether with precise headers, powerful strikes, or delicate chips, made him a constant threat on the field. Versatility and Skills: What set Pelé apart was his versatility. He was not just a goal-scorer; he was a complete footballer. His dribbling skills were mesmerizing, and his close control of the ball was unparalleled. Pelé could operate in multiple positions on the pitch, from a classic number 10 to a deep-lying playmaker, and he did so with excellence. Cultural Impact: Beyond the football pitch, Pelé's cultural impact cannot be overstated. He was a symbol of hope and unity during a challenging time in Brazil's history. His performances transcended the sport, inspiring people worldwide and contributing to the global popularity of football. Global Ambassador: Pelé's influence extends to the role of a global ambassador for football. He used his fame to promote the sport and advocate for its positive impact on society. He has worked tirelessly to bring attention to issues like poverty, education, and healthcare, particularly in underprivileged communities. Honors and Awards: Pelé's list of accolades is extensive, including multiple FIFA World Player of the Year awards. He is also a member of the FIFA 100 list of the world's greatest living players. His contributions to the sport were further recognized when he was awarded the Presidential Medal of Freedom by the United States in 2019. Legacy: Pelé's legacy continues to influence modern football. His name is often invoked in discussions about the greatest footballers of all time, and his records remain a benchmark for aspiring players.
In conclusion, Pelé's influence on the sport of football is immeasurable. He was not just a footballer; he was a symbol of joy, skill, and inspiration. His remarkable career and lasting legacy make him one of the true titans of the beautiful game, a player whose name will forever be etched in the annals of football history.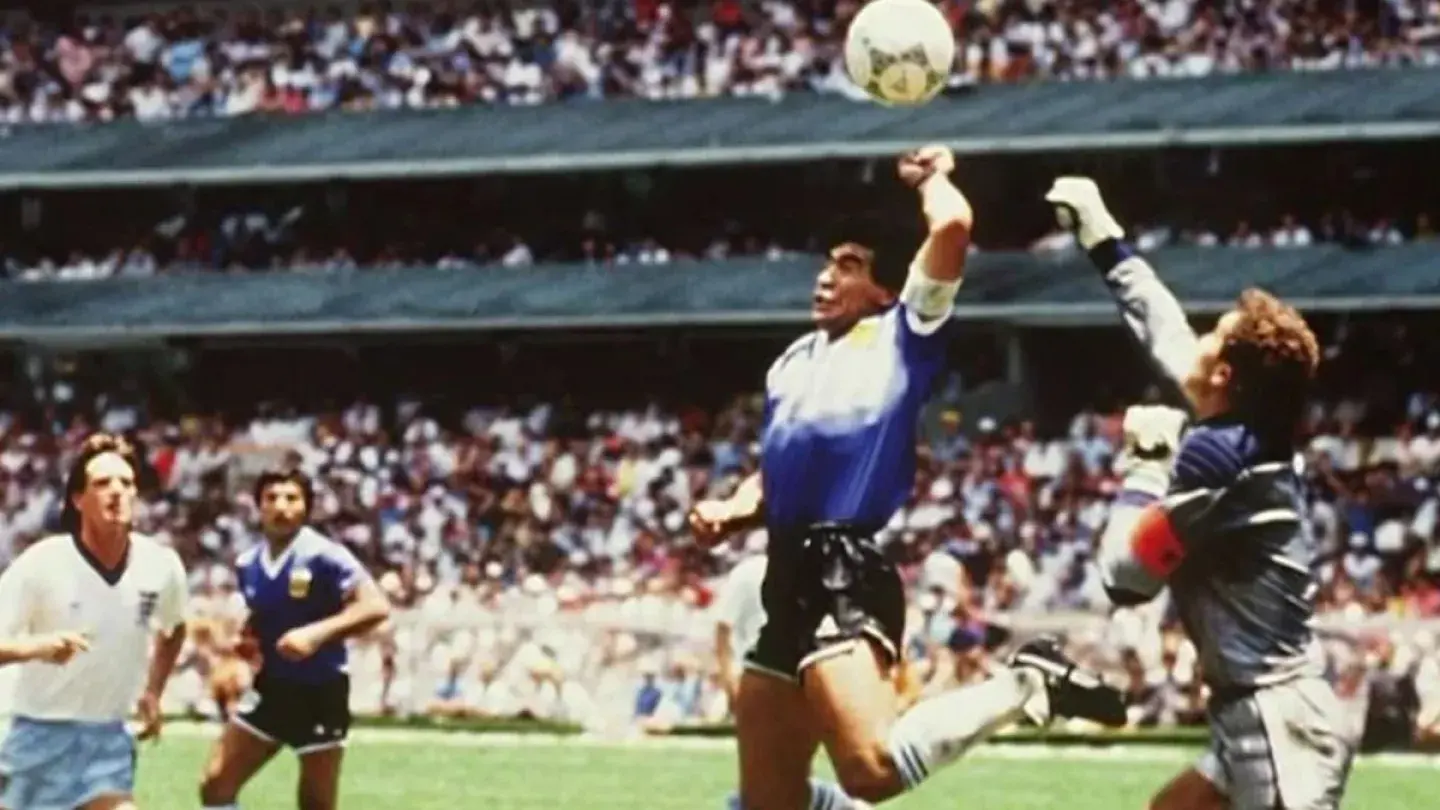 Diego Maradona, an Argentine legend, is celebrated for his exceptional skill, vision, and creativity. His infamous "Hand of God" goal and the "Goal of the Century" during the 1986 World Cup are iconic moments in football history. Maradona's talent and passion inspired generations of players and fans alike.
Diego Maradona, born in Lanús, Argentina, in 1960, is a football icon whose name is synonymous with both sublime skill and controversy. His extraordinary career and indelible moments on the field have solidified his status as one of the greatest footballers ever.
Hand of God and the Goal of the Century: Maradona's performance in the 1986 FIFA World Cup is the stuff of legends. In the quarter-final against England, he scored two of the most iconic goals in football history. The "Hand of God" goal, where he used his hand to score, and the "Goal of the Century," in which he dribbled past five England players, showcased his genius and audacity. Extraordinary Dribbling: Maradona's dribbling ability was unparalleled. His low center of gravity, close ball control, and agility allowed him to glide past defenders effortlessly. His dribbles were often described as mesmerizing, leaving fans and opponents in awe. Leadership: Maradona was not just a gifted player; he was also a charismatic leader on the field. He captained the Argentine national team to victory in the 1986 World Cup, a tournament in which he was the standout performer. His leadership and passion inspired his teammates to perform at their best. Club Success: Maradona achieved success at the club level as well. He had successful spells with Barcelona and Napoli. At Napoli, he led the club to its first-ever Serie A titles in 1987 and 1990, cementing his status as a legend in Naples. Controversy and Challenges: Maradona's career was not without controversy. His struggles with addiction and personal issues often made headlines. However, his ability to bounce back and continue performing at the highest level showcased his resilience. Global Popularity: Maradona's global popularity extended far beyond the football pitch. He was not just an athlete; he was a cultural icon. His name and image were used in art, music, and literature, making him a symbol of Argentina and the sport itself. Legacy: Diego Maradona's legacy endures in the hearts of football fans worldwide. He is often mentioned in the same breath as Pelé and Messi in discussions about the greatest footballers of all time. His impact on the game's history is immeasurable. Posthumous Recognition: Maradona's untimely passing in 2020 sent shockwaves through the footballing world. He received tributes and honors from across the globe, and his memory lives on as a symbol of the passion and artistry of football.
In conclusion, Diego Maradona was a footballing genius whose brilliance on the field and complex personality off it made him one of the most captivating figures in the history of sports. His skill, passion, and moments of magic ensure that his name will forever be etched in the pantheon of football's all-time greats.
Lionel Messi, often compared to Pelé and Maradona, has consistently demonstrated his incredible prowess on the field. Spending the majority of his career with Barcelona, Messi has set numerous records for goals scored and assists. His dribbling, vision, and ability to single-handedly change the course of a game have earned him the title of one of the greatest players in modern football. Lionel Messi's signing with Paris Saint-Germain (PSG) for a reported fee of over 25 million euros created waves in the football world, as fans eagerly anticipated his new chapter, much like players seeking the thrill of a kasyno bez depozytu 25 euro to start their gaming adventure in their pocket.
Lionel Messi, often referred to as "Leo," is an Argentine football prodigy who has redefined the standards of excellence in modern football. Born in Rosario, Argentina, in 1987, Messi's journey from a young prodigy to a global footballing phenomenon is nothing short of extraordinary.
Consistency and Records: Messi has consistently delivered remarkable performances over the course of his career. His goal-scoring records are awe-inspiring, and he has shattered numerous records, including the most goals scored in a calendar year. His ability to maintain a high level of performance year after year is a testament to his exceptional skill and work ethic. Dribbling and Close Control: Messi's dribbling skills are often likened to those of Diego Maradona. He possesses an innate ability to glide past defenders with ease, even in tight spaces. His close ball control and low center of gravity make it incredibly challenging for opponents to dispossess him. Versatility: Messi is not a one-dimensional player. While he is primarily known as a forward, he has displayed remarkable versatility throughout his career. He can operate as a winger, attacking midfielder, or even a false nine. His vision and passing ability make him a playmaker as well as a goal-scorer. Playmaking Prowess: Messi's playmaking abilities are often underrated. He not only scores goals but also creates numerous goal-scoring opportunities for his teammates. His vision and ability to pick out passes in tight spaces are second to none. Ballon d'Or Dominance: Messi has won the prestigious FIFA Ballon d'Or award multiple times, solidifying his status as one of the greatest footballers in history. His rivalry with Cristiano Ronaldo for the title of the world's best player has been a defining narrative in modern football. Loyalty to Barcelona: Messi spent the majority of his career with FC Barcelona, where he became an integral part of the club's identity. His loyalty to the club and his contributions to its success are deeply cherished by Barcelona fans. Transition to Paris Saint-Germain (PSG): In 2021, Messi made a high-profile move to Paris Saint-Germain after leaving Barcelona due to financial constraints. His arrival at PSG marked a new chapter in his illustrious career, as he continued to compete at the highest level in European football. International Success: Despite initial criticism for his performances with the Argentine national team, Messi led Argentina to victory in the 2021 Copa America, his first major international trophy. This triumph was particularly special for him and silenced any remaining doubts about his ability to succeed on the international stage. Humanitarian Efforts: Off the field, Messi is known for his humanitarian efforts. He has used his fame and fortune to support charitable causes, including children's healthcare and education, making a positive impact beyond the football pitch.
In conclusion, Lionel Messi's impact on the world of football transcends statistics and records. He is not just a prolific goal-scorer but also a true artist of the game. His ability to consistently deliver moments of brilliance has endeared him to fans around the world, and he continues to be an inspiration for aspiring footballers and a symbol of excellence in the sport.
Cristiano Ronaldo, a Portuguese sensation, is another player whose name is synonymous with football greatness. Known for his incredible athleticism, goal-scoring ability, and versatility, Ronaldo has won numerous awards and accolades, including five FIFA Ballon d'Or titles. His dedication to his craft and relentless work ethic have propelled him to the pinnacle of the sport.
Johan Cruyff, a Dutch footballing genius, revolutionized the game with his Total Football philosophy. As a player, Cruyff was a master of dribbling, passing, and positioning. Later in his career, he transitioned into coaching and played a pivotal role in the development of Barcelona's famous "tiki-taka" style of play.
Zinedine Zidane, a French midfield maestro, is remembered for his elegance and grace on the ball. His performances in the 1998 World Cup and the UEFA Champions League with Real Madrid solidified his status as one of the finest players of his generation. Zidane's ability to control a match with his skill and vision was second to none.
George Best, a Northern Irish winger, was known for his extraordinary dribbling ability and flair. Playing for Manchester United, he became a footballing sensation in the 1960s. Despite a career marred by off-field issues, Best's talent remains a testament to the artistry of the sport.
The history of football is replete with legendary players who have left an indelible mark on the sport. While the list above includes some of the top-ever players in football, there are many more who have graced the pitch with their exceptional talent and passion for the game. These players have not only entertained us with their skills but have also inspired countless individuals to fall in love with the beautiful game. Their contributions to football have transcended borders and generations, ensuring their places in the pantheon of footballing greatness for years to come. https://www.fifa.com/fifaplus/