Sofia Calzetti is the stunning girlfriend of the Manchester City star, Sergio Aguero.
Sergio Agüero is definitely one of the best strikers in the world. Aguero is a major part of the Manchester City team despite his long-term injury spells.
The Argentinian is most definitely one of the deadliest finishers in the Premier League, but in 2021 he announced that he will be leaving the Citizens as he won't renew his contract.
Sergio Aguero's career is very fascinating, as he has become Manchester City top scorer of all time, but we decided to take a closer look into his personal life and find out more about his very beautiful girlfriend.
Throughout the years the Argentinian ace has been with many girls. He had several encounters with beautiful models after he divorced from his ex-wife Gianinna Maradona, with whom he has one child, a son - Benjamín Agüero Maradona.
Aguero is now in a long-term relationship with the beautiful Sofia Calzetti and things are looking pretty serious.
Kun Aguero and Sofia Calzetti have been dating since 2019.
They met over a night party in Argentina shortly after Aguero broke up with Taylor Ward, the daughter of the former Premier League star Ashley Ward.
Sofia Calzetti gained most of her popularity after she started dating the Premier League star, Sergio Aguero.
Sofia is also famous for being a model and she has worked with many famous brands.
Now let's take a closer look into Sofia Calzetti's biography and learn as much as possible about her.
Sofia Calzetti was born on August 15, 1996, which means that her age is 26.
According to her birthday, Sofia's zodiac sign is Leo, which means that she is a born leader and she is very passionate and generous. Usually people born under the sign of Leo are with a great sense of humor.
Aguero's girlfriend, Sofia Calzetti was born in Argentina, which means that her nationality is Argentinian.
Sofia Calzetti's family is under review, so stay tuned for further information. Sofia has not disclosed any info regarding her parents, so we are not sure who is her father or her mother.
Sofia hasn't shared anything about her early life. However, we were able to find out that Sofia Calzetti has one sibling, a younger brother.
Sofia Calzetti graduated high school in her hometown. There is no information whether she has gone to college or not.
Sofia Calzetti is a renowned model. The stunning blonde has modeled for several big companies and now she is an ambassador for Be Dog and Everlast.
Sofia also has been on the big screen in the Argentine comedy Caidos del Mapa (Off The Map) in 2013.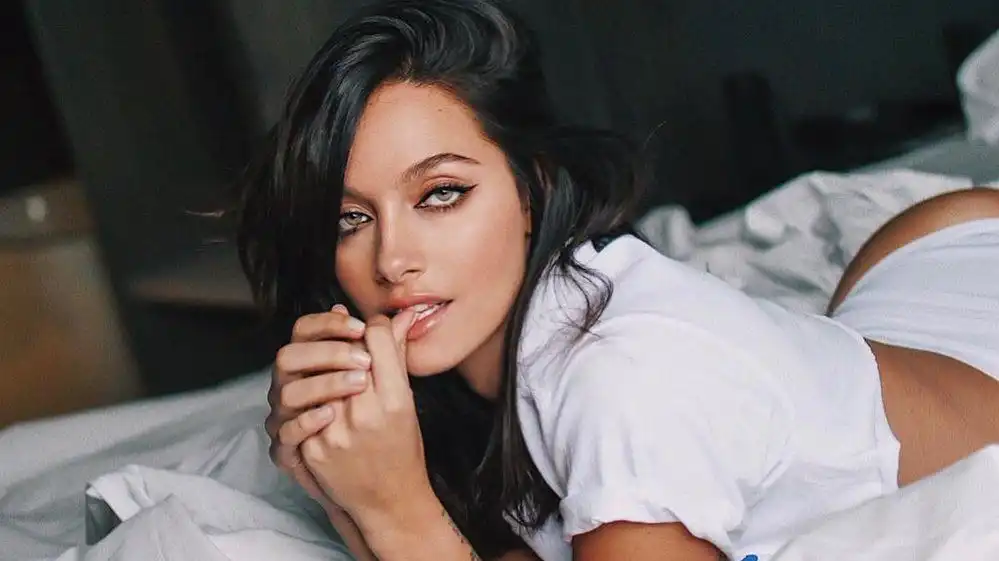 Checkout Paulo Dybala's Hot Girlfriend - Oriana Sabatini
Sofia Calzetti is an Instagram star and a famous model, so she is a very wealthy person.
Sofia Calzetti's net worth is estimated to be over $2 Million.
Sergio Aguero's net worth is also very significant, as he is one of the highest paid Manchester United players.
Aguero's net worth is over $80 Million. Sergio Aguero's annual salary is over $23 Million.
Sofia Calzetti is also very popular on social media. She has gained over 464K followers on Instagram.
The hottie likes to keep her audience engaged with her life through fancy snaps of her latest vacations.
You can check Sofia Calzetti's Instagram here.
Aguero's girlfriend, Sofia Calzetti loves to travel and to explore new cultures. Ever since they met she has visited Dubai, Italy and Paris.
In her free time, Sofia prefers to spend some quality time with her friends.
Calzetti also loves to take care of her body and she trains on a daily basis, as the gym is her second home. Sofia loves boxing and she is taking boxing classes, as it is well known that this sport helps you maintain a great physique.