Ana Pinho is the stunning wife of the Portuguese and Manchester United star, Bruno Fernandes. Bruno had a difficult time with her before he convinced her to go out with him, but she is a person worth fighting for. In this article, you will find many interesting facts about Ana Pinho including her date of birth, zodiac sign, body measurements and so much more.
Bruno Fernandes is undoubtedly the best addition to the Manchester United squad in recent years, as he brought much-needed creativity in midfield. But except for his talent, the Portuguese international brought to Manchester his stunning wife and the fans immediately fell in love with her.
The talented Portuguese midfielder is married to Ana Pinho and their story started way back in time. It all started when they were in the same class in their high school in Boavista. Bruno Fernandes, who was 16-years-old by the time, fell in love with Ana at first sight, but she wasn't an easy catch.
Ana was playing hard to get on the future Manchester United and Sporting star. Bruno Fernandes had to put a lot of effort to achieve his desire to make her his girlfriend. Eventually, Ana and Bruno started dating and in 2015 Fernandes decided that it was time for him to propose.
On December 23, 2015, the happy couple tied the knot in a wedding ceremony that was attended by all of their families and friends.
Their love story is so beautiful, as they started as childhood sweethearts and ended up married for years.
Ana Pinho is also a full-time mother to the couple's lovely children. Ana Pinho is mostly famous for being Bruno Fernandes' wife.
Now let's dig deeper into Ana Pinho's biography and learn everything there is to know about her.
Ana Pinho was born on April 18, 1994, which means that her age is 28.
According to her birthday, Ana Pinho's zodiac sign is Aries, which means that she is a very passionate and confident person. Usually, people born under the sign of Aries are known for their strong leadership and independence.
Ana Pinho was born in Portugal, so her nationality is Portuguese, such as her husband's.
Ana Pinho is very private about her personal life and she doesn't like to share any information about her parents or her siblings. It is unknown if Ana has brothers and sisters or if she is an only child. One thing is sure, Ana's mother and father did everything they could to support their daughter and to give her love.
Ana Pinho graduated high school in Boavista and she was a very good student, who loved studying. It is unknown whether Ana enrolled in university after graduating from high school. There is almost no information regarding Ana Pinho's education.
Ana Pinho's job is under review at the moment, so stay tuned for further information. Ana has not disclosed any details around her occupation, but as soon as we have more info on the topic we will update you.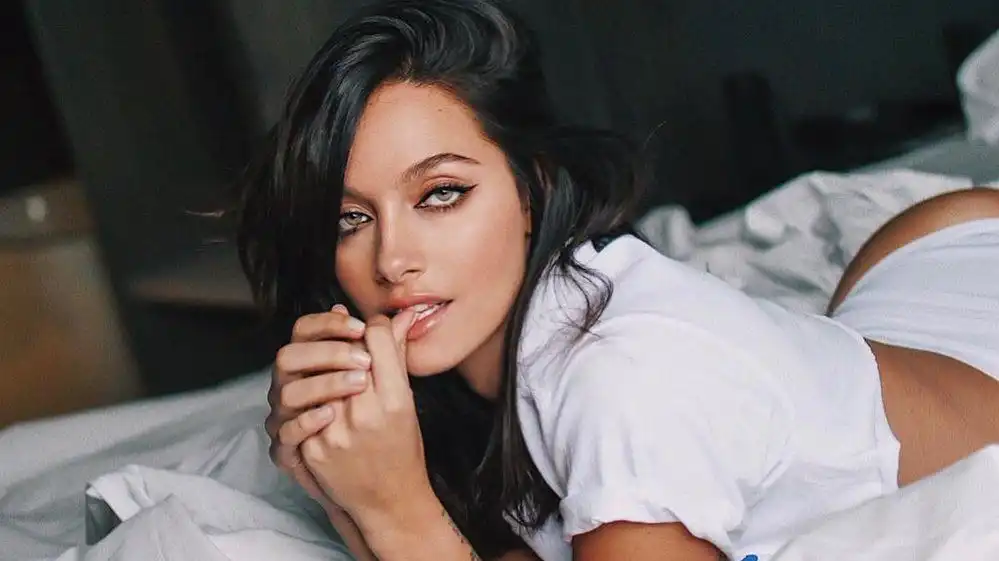 Checkout Paulo Dybala's Hot Girlfriend - Oriana Sabatini
Ana Pinho's net worth is under review at the moment, so stay tuned for further information. Since Ana's profession is unknown, we are not quite sure what her wealth is. Her husband on the other hand is known for being one of Manchester United highest-paid players.
Bruno Fernandes' net worth is estimated to be over £6million ($8,3 Million). Bruno Fernandes' annual salary is around £9,36 Million and his weekly wage is £180,000.
Ana is among the most influential WAGs on social media. She is very active on her Instagram account as she often posts lovely snaps of her family.
She has nearly 100K followers. You can check Ana Pinho's Instagram  here, she goes by the nickname @anaapinho_.
Ana Pinho's height is around 5 ft 4 inches (165 cm) and her weight is around 55 kg (121 lbs). Ana has brown hair and dark eyes. She has several tattoos on her body - one of which is on her left hand.
As it was already mentioned, Ana and Bruno are childhood sweethearts. Their love flourished when they were still in high school and they have been together ever since then.
But like every relationship, Bruno and Ana had a difficult time, when Fernandes had to leave Portugal for Italy. Of course, Ana did not argue with his decision as she is one very supportive wife and she realised that that's Bruno's chance to shine.
She is a real fan of her husband and she often can be seen supporting him in the stadium or in front of the TV.
Nowadays, Bruno Fernandes and Ana Pinho live in their big house in Vilamoura, Portugal, but due to Fernandes' change of clubs, they moved to Manchester, the United Kingdom.
Bruno Fernandes and Ana Pinho are one very happy couple as they are blessed with two lovely children.
In January 2017, Ana Pinho gave birth to Bruno Fernandes' first child, a daughter, who they decided to name Matilde Fernandes.
In 2020, the couple announced that they are expecting another child. In September 2020, the couple welcomed their son, Gonçalo Fernandes.