Vlada Sedan is the stunning wife of the Manchester City defender, Oleksandr Zinchenko. Vlada sets pulses racing when she's interviewing one of the planet's best footballers. In this article you will learn everything there is to know about Vlada Sedan such as her age, zodiac sign, height, weight. Read on to find out more about Zinchenko's wife.
Oleksandr Zinchenko is a professional footballer, who currently plays for the Premier League club Manchester City and the Ukraine national team. Pep Guardiola is a lucky guy with a player like Zinchenko, as he can operate in many positions - an attacking midfielder, a wing-back or a full-back.
However, we decided to take a closer look into Oleksandr's personal life, rather than his professional one. So today you will learn more about his gorgeous wife.
Oleksandr Zinchenko is married to the beauty Vlada Sedan. It is still unknown when they began their relationship, but the rumours started back in June 2019, when Zinchenko kissed Vlada on the cheek after an interview following Ukraine's 5-0 win over Serbia.
The fans kept guessing about their relationship for months and even the Ukrainian footballer's teammates, who knew about it, kept it a secret.
In 2020, Zinchenko proposed to Vlada inside the 70,000-capacity Olympic Stadium in Kyiv in front of a heart-shaped display of red roses. Sedan said "Yes" and the couple got engaged.
On August 24, 2020, Oleksandr and Vlada got married in a lavish wedding ceremony.
Vlada became familiar to the football fans way before she met Oleksandr Zinchenko, as she is a reporter. She has interviewed many famous football players including Cristiano Ronaldo, Andriy Shevchenko and Kyle Walker.
Now let's take a closer look into Vlada Sedan's biography and learn everything there is to know about her.
Vlada Shcheglova was born on October 20, 1995, which means that her age is 27. Vlada is one year older than her husband Zinchenko, who was born on December 15, 1996.
According to her birthday, Vlada Zinchenko's zodiac sign is Libra, meaning that she is a very intelligent and diplomatic person. Usually, people born under the sign of Libra are known for being good listeners. That is a quality that helps Vlada in her job.
Vlada was born in Vinnytsia, Ukraine, so her nationality is Ukrainian.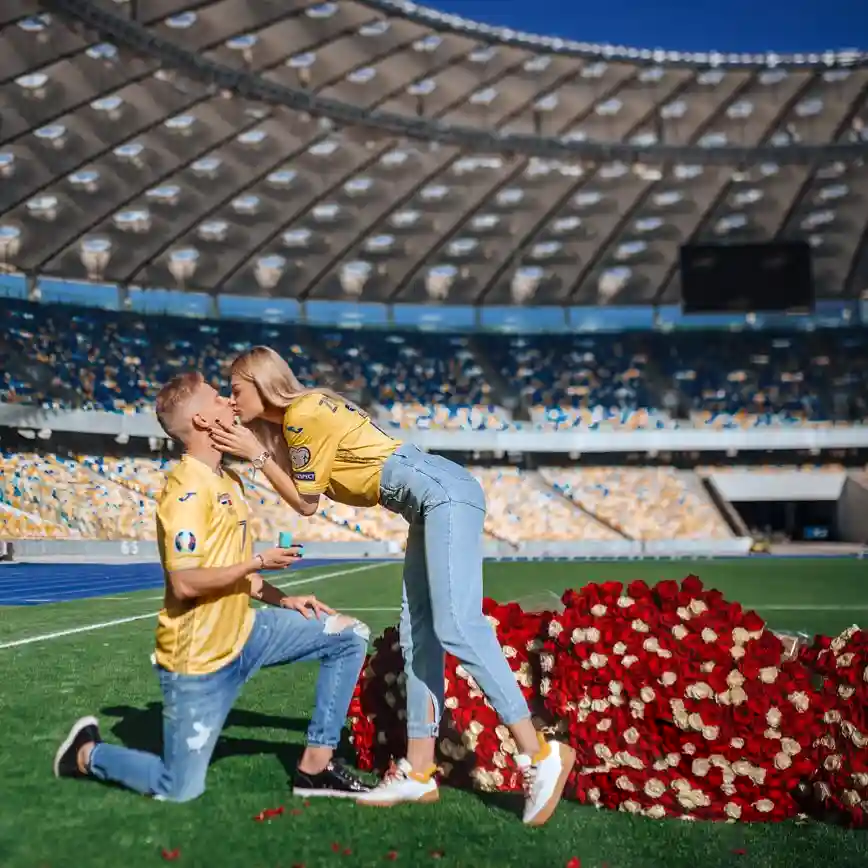 Vlada Sedan is very private when it comes to her personal life. She hasn't disclosed any information regarding her mother and father. It is unknown who her parents are.
It is also unknown if Vlada Sedan has siblings or if she is an only child.
Vlada Sedan completed her education in Ukraine. Vlada graduated high school at School-Gymnasium №2 Vinnytsia.
After high school, she enrolled in university. She studied at the Taras Shevchenko National University of Kyiv.
Vlada Sedan is a reporter and a TV presenter. She has begun her journalist career at Channel Football 1/2.
Vlada Sedan also works as a model. She is an ambassador for Puma.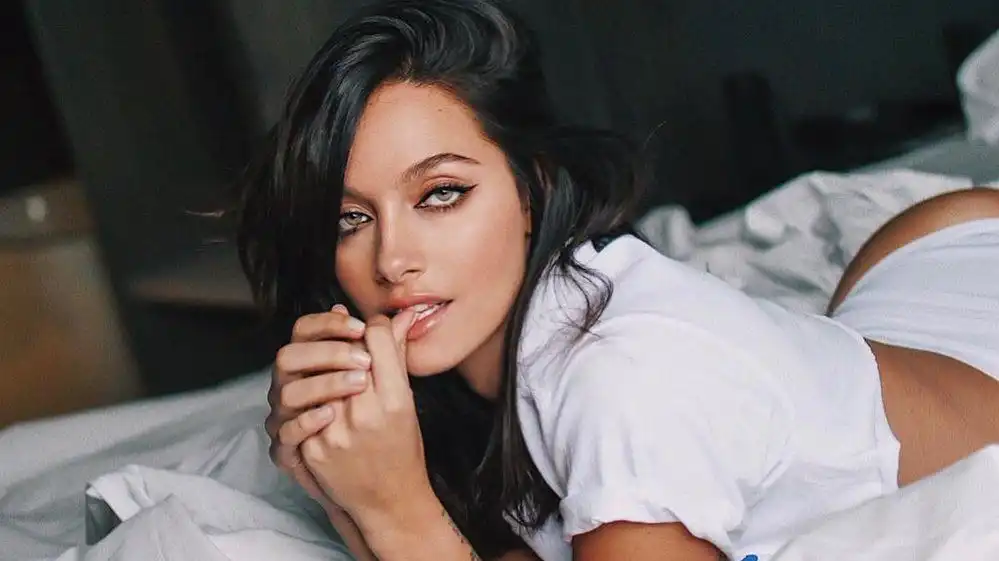 Checkout Paulo Dybala's Hot Girlfriend - Oriana Sabatini
Vlada Sedan's net worth is estimated to be roughly $1 Million. She made most of her wealth from her career as a TV presenter and a model.
Oleksandr Zinchenko's net worth is estimated to be over $5 Millions.
Zinchenko's annual salary at Manchester City is £1,040,000 and he earns £20,000 per week.
Vlada Sedan's height is 1.74 m (5 ft 7 in) and her weight is 55 kg (121 lbs). Vlada has blonde hair and blue eyes. Currently, Vlada Sedan doesn't have tattoos on her body.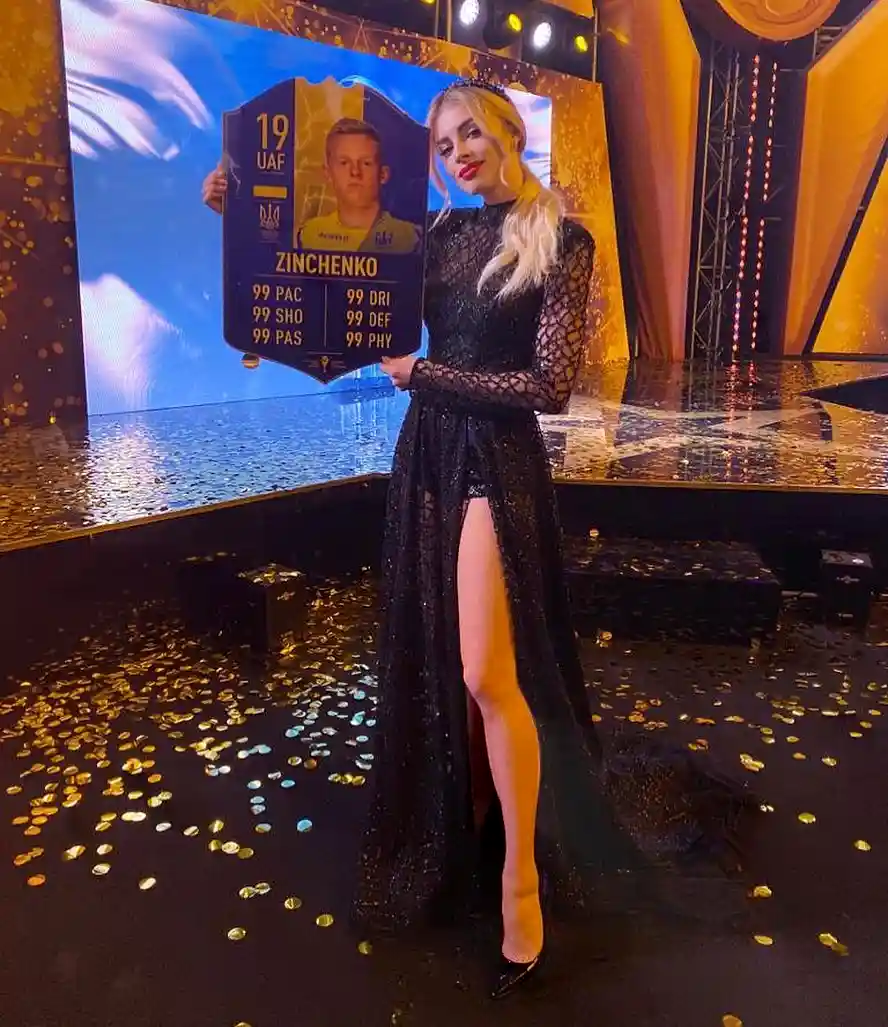 Vlada is quite popular on social media platforms such as Instagram and YouTube.
Sedan has over 549K followers on Insta, but she has set her profile to private. However, you can still check Vlada Sedan Instagram here.
Vlada also has a YouTube channel, where she uploads vlogs and shares her moments with Oleksandr Zinchenko.
You can check Vlada Seda's YouTube channel here.
Vlada Sedan and Oleksandr Zinchenko have one child together. The couple has a daughter.
In August 2021, Vlada gave birth to Zinchenko's daughter, whose name is yet to be revealed.
| | |
| --- | --- |
| Full Name | Vlada Sedan |
| Date of Birth | October 20, 1995 |
| Age | 27 |
| Zodiac Sign | Libra |
| Birthplace | Vinnytsia, Ukraine |
| Nationality | Ukrainian |
| Religion | Christianity |
| Job | TV presenter, journalist and model |
| Net Worth | $1 Million |
| Husband/Boyfriend | Oleksandr Zinchenko - husband |
| Children | A daughter |
| Parents | N/A |
| Siblings | N/A |
| Body Measurements | N/A |
| Height | 1.74 m (5 ft 7 in) |
| Weight | 55 kg (121 lbs) |
| Hair Color | Blonde |
| Eye Color | Blue |
| Tattoos | No |
| Instagram | @v.lada_sedan |
| Twitter | N/A |
| Facebook | N/A |