Riyad Mahrez became the star of Manchester United from the minute he joined them back in 2018.
With his phenomenal dribbling skills the forward is just a very tough opponent for the defenders.
He is scoring for the Citizens very often, but apparently he is scoring off the pitch as well, as he has a stunning girlfriend by his side.
Here you will find everything you need to know about Mahrez's girlfriend, including her bio, so let's begin.
Riyad Mahrez has been in a relationship with Taylor Ward since 2020.
Mahrez must have a thing for models, as he was previously married to one, before he started his relationship with Ward. The Man City star was married for five years to his long-time girlfriend Rita Janet Johal.
He and Rita tied the knot in 2015, but they decided to end their relationship in 2020 and they got separated.
Mahrez and Rita have two children together, as one of their daughters is Inaya Mahrez, who was born in 2015.
However, after splitting from his wife, Mahrez did not waste any time and he quickly found himself a new love interest. In October 2020, Taylor and Mahrez went officially public as the stunning blonde posted a picture of them in her Instagram profile with the caption "Me & U".
Taylor Ward is mostly known for being the daughter of the famous footballer Ashley Ward.
She gained even more popularity after she announced that she is dating the Manchester City star Riyad Mahrez.
Now, let's take a look into Taylor Ward's biography and learn more about her.
Taylor Ward was born on January 28, 1998, which means that her age is 24.
According to her birthday, Taylor's zodiac sign is Aquarius, which means that her personality is defined by her adaptable and original nature. Usually people born under the sign of Aquarius live for new settings and environments and when they meet new people, they have the ability to present their unique personality with charisma.
Taylor was born in England, meaning that her nationality is British.
Taylor Ward comes from a very famous family. She is the daughter of the former footballer Ashley Ward and Dawn Ward.
Taylor's father and her mother are the owners of several businesses, including a commercial property business, an operating , a nursing home in Bolton and they are also managing a £15million luxury property development company Bilton Ward Developments.
Taylor has three siblings, as she is the second child of the family. She has an older sister, Darby Ward and two younger sisters, Aston Ward and Charlie Ward.
Taylor Ward graduated high school from Rugby School. After graduating from high school Taylor enrolled in university, where she is studying fashion.
As you can imagine, Taylor grew up with a lot of attention to herself. She became famous from a young age and now she is pursuing a career in the modeling industry.
Taylor is also an ambassador for several famous brands including The C Collective.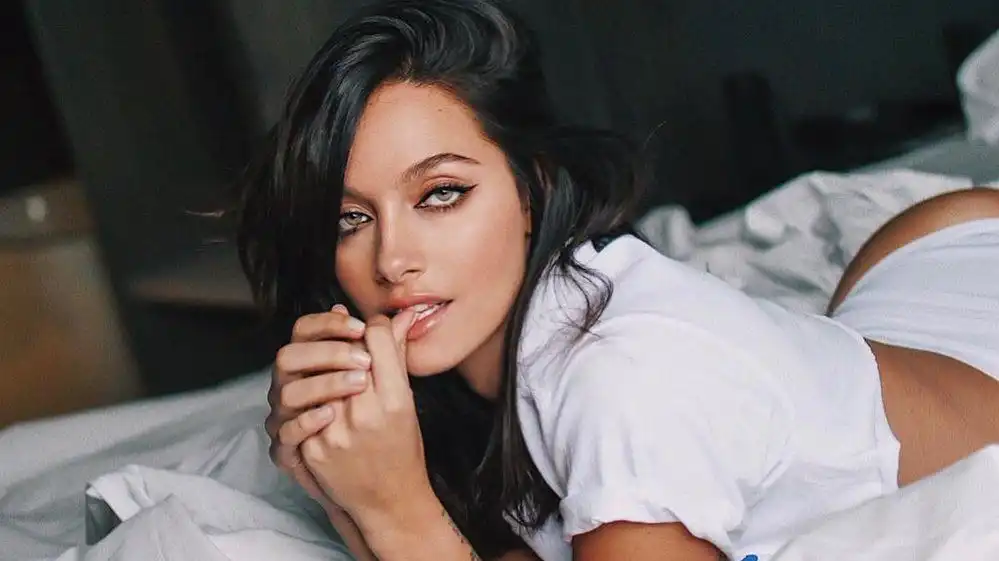 Checkout Paulo Dybala's Hot Girlfriend - Oriana Sabatini
In 2017, Taylor and her sister, Darby made the headlines as they announced that they were about to make a boob-jobs.
They announced the news when they appeared in an episode of their mother's show .
Before the hottie met Riyad Mahrez, she was in a relationship with the star of , Sam Reece. They started their relationship shortly after Reece broke up with Stephanie Davis.
Sam and Taylor were seen in one of the episodes of the show, as he was invited to have lunch with Taylor's parents. However, their romance quickly came to an end.
Taylor Ward was also romantically linked to Sergio Aguero.
Taylor is very famous on social media. The English beauty has over 933K followers on Instagram and they are continuing to grow on a daily basis.
She uses her Insta to promote different brands, but she also likes to show to the fans the fancy life she is living.
You can check Taylor Ward's Instagram profile here.
Taylor is also popular on Twitter, which you can check here.
It is not a secret that Taylor is living the best possible life, or at least it looks like that.
She lives in a big mansion and her parents even bought her a £24,000 Mercedes Benz before she'd even had a driving licence.
It was reported that Taylor Ward's net worth is around $5 million.