Larissa Pereira is one of the most stunning WAGs in the football world. Roberto Firmino is a lucky man for having such a hotwife. In this article you will learn everything there is to know about Larissa Pereira, so read on to find many interesting facts about her.
Roberto Firmino is considered one of the best strikers in the world. He is part of probably the most dangerous trio in attack alongside Mohamed Salah and Sadio Mane. Firmino's achievements in his professional career are something worth analyzing more, but in this article, we will focus our attention more on his personal life and what he has achieved there.
Roberto Firmino is one lucky guy as he won two major trophies in two years - first the Champions League and then the Premier League - but his biggest achievement is marrying the beautiful model Larissa Pereira.
Firmino and Larissa met back in 2013 in a nightclub, but they began their relationship a year later. The couple decided that it is time to tie the knot after three years of dating. They got married in Firmino's birthplace Maceio, Brazil on June 20, 2017.
They had a big ceremony and the best man of Firmino and Pereira wedding was not else, but Philippe Coutinho. Alberto Moreno, Allan Souza and Lucas Leiva were among the guest at Firmino's wedding ceremony.
Enough about the love story of the happily married couple, it is time to learn more about who actually is the woman that captured Firmino's heart and made him say 'yes'.
Larissa Pereira is a famous model, a devoted mother and wife. She is mostly known for being the wife of the Liverpool star Roberto Firmino. Now, let's take a closer look into Larissa Pereira's biography and learn everything there is to know about her.
Larissa Firmino was born on December 12, 1992, meaning that her age is 29. According to her birthday, Larissa Pereira's zodiac sign is Sagittarius, which means that she is a very cheerful and jovial person. Usually, people born under the sign of Sagittarius are known for their impetuous characters and for being very good athletes.
Larissa Pereira was born in Brazil, meaning that her nationality is Brazilian.
Larissa Pereira hasn't disclosed any information about her parents. It is also unknown if she has siblings or if she is an only child. Lari (as she prefers to call her) is very private when it comes to her personal life.
Larissa Pereira completed her education in Brazil. It is unknown if she enrolled in university after graduating from high school.
Larissa Pereira is a model and a real Instagram star. She is also an ambassador for several brands, which she promotes on her Instagram account.
Firmino's wife made sure that she is not 100 per cent dependent on her husband and created her own brand. Larissa's clothing brand is called BeValen Store.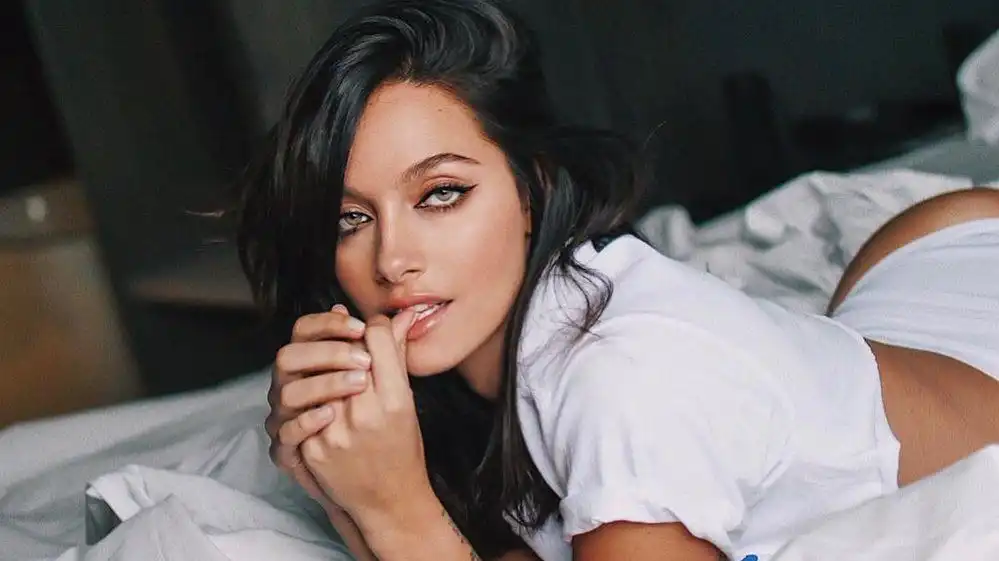 Checkout Paulo Dybala's Hot Girlfriend - Oriana Sabatini
Larissa Pereira's net worth is estimated to be over $2 Million. She made most of her wealth from successfully managing her store and promoting different products.
Roberto Firmino's net worth is also very significant, but it is not surprising, because he is such a great footballer. Roberto Firmino's net worth is estimated to be over $30 Million. Firmino's annual salary at Liverpool is £9,36 Million and his weekly wage is £180,000.
Many people believe that Larissa Pereira has surgeries, but it is not confirmed anywhere. The Brazilian beauty may have some surgeries to give her the much-needed self-esteem as a model. There is a big chance that she has cosmetic surgery on her nose, but we can't be completely sure about it.
With or without surgeries Pereira is one of the hottest WAGs in the Premier League. Larissa Firmino has more than 537K followers on her Instagram profile. She posts mostly pictures of her lovely children or cute snaps with Firmino.
You can check Larissa Pereira Instagram here, she goes by the nickname @larissa_peereira.
Larissa Pereira's height is around 5 ft 7 in (1.70 m) and her weight is around 56 kg (123 lbs). She has blonde hair and brown eyes. Larissa has several tattoos on her body.
Does Roberto Firmino and Larissa Pereira have children together? Yes, they do they have two beautiful daughters and their third child is on the way.
Larissa gave birth to Firmino first daughter, Valentina Firmino, in 2014. Two years later, in 2016, the couple had another child and they named her Bella Firmino. In 2021, the couple announced that they were expecting their third kid together
The couple always takes time to share with their Instagram followers how happy they are as parents of two lovely children, but they also share photos of their vacations to exotic cities.