Ana Ivanović is the stunning wife of the famous Bayern Munich legend Bastian Schweinsteiger.
Bastian Schweinsteiger is probably one of the most famous Bayern Munich players of all time. He served almost his entire career with the Reds until 2015 when he joined Manchester United for a two-year spell.
Bastian Schweinsteiger has won the Bundesliga eight times with Bayern, which is something fascinating and not many football players have achieved it. Schweinsteiger's professional career is something magnificent, but we decided to take a closer look into his wife's life as she is a sport legend as well.
Bastian Schweinsteiger is married to French Open 2008 winner, Ana Ivanovic.
Bastian and Ana met in 2014 and they started dating in September the same year.
After two years of dating, on July 12, 2016, Schweinsteiger and Ivanovic got married in a lavish wedding ceremony in Venice.
For the football fans Ana Ivanovic is mostly known for being the wife of the famous Bayern Munich and Manchester United star, Bastian Schweinsteiger.
Ana Ivanovic is a renowned tennis player with a number of awards in her cabinet.
Now let's take a closer look into Ana Ivanovic's biography and learn as much as possible about her.
Ana Ivanovic was born on November 6, 1987, so her age is 35.
According to her birthday, Ana Ivanovic's zodiac sign is Scorpio, which means that she is shy but artistic at the same time. People born under the sign of Scorpio are naturally sensitive and have grown to value artistic expression.
Ana Ivanovic was born in Belgrade, Serbia, meaning that her nationality is Serbian.
Ana Ivanovic is the daughter of Dragana, who is a lawyer, but despite her busy schedule she has never missed a game for her daughter. Ana Ivanovic's father is called Miroslav and he has his own business.
Ana has one sibling, a younger brother, Miloš, with whom she is very close and she has admitted that they love playing basketball together.
Ana Ivanovic is not only on the top of her sport, but she really loves to be challenged intellectually. Right after she graduated from high school, Ana enrolled in university and she was on the top of her class as well.
Ana studied finance, but that's not her only interest as she has a keen interest in psychology and modern art. Ana's favourite artists are Mark Rothko and Helmut Newton.
Ana Ivanovic picked up a racket at a very young age, when she was 4-years-old to be exact. Ana was inspired by Monica Seles and she wanted to be like her, so she encouraged her parents to buy her a racket and send her to tennis school.
Ana started training in very dangerous times, during the NATO air strikes of the Kosovo War, but no matter the conditions Ivanovic loved what she was doing and she kept going.
The training facilities she used to train were very poor, so when she was 13-years-old Ana moved to Basel, Switzerland, as there the training facilities and coaching were better.
Dan Holzmann was her manager at the time, but he was on the verge of abandoning her, when he saw her crying after her first defeat, because he thought that she wasn't good enough. However, he decided to give her a second chance and that was the right decision as Ana became no. 1 in World.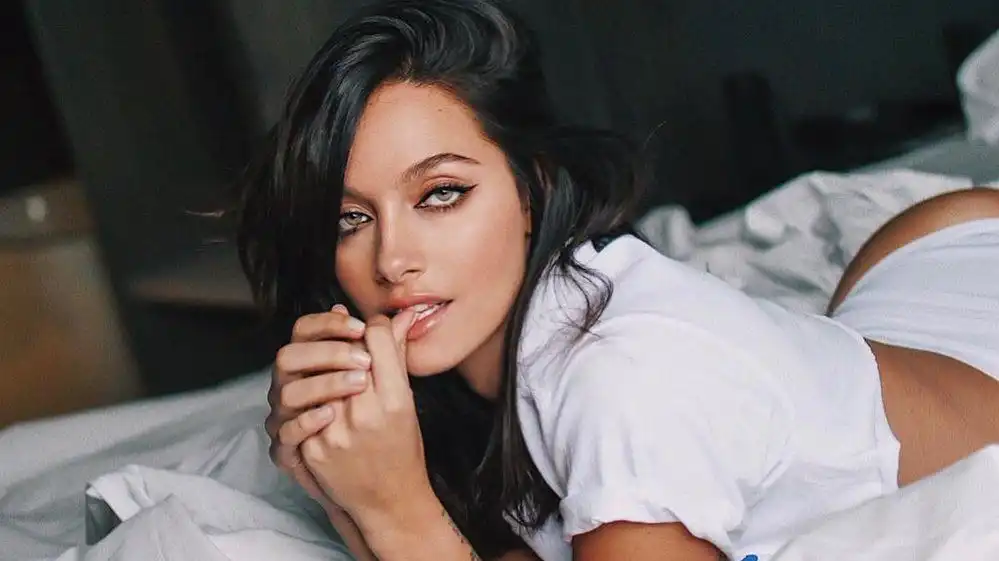 Checkout Paulo Dybala's Hot Girlfriend - Oriana Sabatini
Ana Ivanovic made her professional debut on August 17, 2003.
Ana reached the final of the Junior Wimbledon tournament, but she lost to Kateryna Bondarenko. But that did not stop her and only motivated her to be even better, so she went 26–0 on the ITF Women's Circuit, and managed to win all five events that she entered, two of them as a qualifier.
Ana Ivanovic's first career singles title came after she defeated the top-10 players, Melinda Czink, Svetlana Kuznetsova, Nadia Petrova and Vera Zvonareva.
In 2005, Ana Ivanovic was defeated at the Australian Open by Amélie Mauresmo in the third round.
Ana Ivanovic's breakthrough was in August when she defeated a formerly ranked No. 1, Martina Hingis, in the final of the Rogers Cup.
That led to her winning the United States Open Series, ahead of Kim Clijsters and Maria Sharapova, but at the US Open, she lost to Serena Williams.
Ivanovic started the summer hard-court season in 2008 with a third-round loss at the Rogers Cup in Montreal to Tamira Paszek.
Ana withdrew from the East West Bank Classic in Los Angeles due to a sore thumb, which she sustained during her practice session two weeks before Montreal. That led to losing the world No. 1 ranking to Janković.
However, on August 18, 2008, Ivanovic reclaimed her world No. 1 ranking.
In 2010 and 2011, Ivanovic won the WTA Tournament of Champions.
In 2015, after several seasons with quite inconsistent form, Ana Ivanovic ranked no. 7 in World.
Ana Ivanovic won only 15 matches in 2016 and in her last professional match was in the first round of the US Open against Denisa Allertova, which she lost with straight sets.
On December 28, 2016, after being absent from a sustained injury, Ana Ivanovic announced that she was retiring, as she couldn't perform on a top level anymore and she was not able to win tournaments, so the best decision is to end her professional career and start a new chapter in her life.
During her time as a tennis player, Ana Ivanovic's career earnings are around $15.5 Million.
Ana played tennis for many years, which helped her gain a huge amount of money.
Nowadays, Ana Ivanovic is among the richest women tennis players and her net worth is estimated to be over $16 Million.
Ana Ivanovic's spouse, Bastian Schweinsteiger's net worth is also very significant, as it is estimated to be over $90 Million.
Ana has many endorsement deals with companies like Rolex.
Ana Ivanovic is also sponsored by Adidas and Yonex.
Ana Ivanovic has a very athletic body and she maintains a great figure by training regularly and eating a healthy diet.
Ana Ivanovic's height is 6 ft ½ in or 184 cm.
Ivanovic's weight is 152 lbs. (69 kg).
Ana Ivanovic's measurements are 34–26–33 in or 86–66–84 cm.
Ana Ivanovic is one of the most famous tennis players and the fans love her.
She has a huge audience on Instagram and Twitter with millions of followers.
On Insta, Ana Ivanovic has over 1.5 Million followers and on Twitter she has over 2.7M.
You can check Ana Ivanovic's Instagram here and her Twitter account here.
Ana Ivanovic is a great human being with a golden heart. She prefers to use her wealth and her fame to help those in need.
Ana Ivanovic is a UNICEF National Ambassador for Serbia and recently became an ambassador of the Quercus Foundation.
Ana was appointed as UNICEF Serbia's National Ambassador in 2007 and since then she has been supporting UNICEF in its fundraising and programme efforts and in communicating to a broad public the vision and values that guide UNICEF's work for children.
The Quercus Foundation leverages its significant investment and fundraising expertise to improve the lives of children and young people living in extreme poverty.
Novak Djokovic and Ana Ivanovic share a strong connection together, Many believe that they have dated in the past, but that's simply not true.
Nokav and Ana grew up together and they share many memories together.
'said Djokovic in an interview.
'
Ana and Bastian have two children together.
In March 2018, Ana gave birth to Bastian Schweinsteiger's son, Luka Schweinsteiger.
On August 30, 2019, the couple welcomed their second son, but his name is still not revealed.