Mathea Fischer is probably one of the luckiest women on earth as she is the girlfriend of the Bayern Munich star, Leon Goretzka. In the following article you will find many interesting facts and details about Mathea Fischer, so read along in order not to miss anything.
Leon Goretzka has been one of the best midfielders in recent years. He quickly became a real sensation from the moment he joined Bayern Munich. Goretzka is a real beast on the pitch, as he is not only passing the ball with perfection, but he scores often as well. However, Goretzka is probably one of the most private football players in the world and he has not shared any details about his love life. The German international has made the world surprised by his current relationship with the beautiful lady, Mathea Fischer.
Leon Goretzka is in a long-term relationship with the stunning Mathea Fischer. Goretzka and Fischer have been together since 2015, but they never spoke about their relationship and never announced it publicly.
Leon and Mathea were introduced to each other by Mathea's sister, Matida. They have common friends and that's how Goretzka and Fischer met each other. They felt that they have a strong connection from the beginning and soon that connection developed into a love relationship. Leon and Mathea managed to keep their love life as private as possible. The fact that they don't want to share any of their happiness with others is making their love even more romantic.
That's the question for one million dollars, right? Mathea Fischer gained most of her popularity after the rumors of her being in a relationship with Leon Goretzka started to spread. Mathea is mostly known for being the long-term girlfriend of the Bayern Munich star. Many believe that Mathea Fischer is Leon Goretzka's wife, but for now they are only dating. But a wedding might be in the near future.
Now let's take a closer look into Mathea Fischer's biography and learn as much as possible about her, as many are dying to know who she is.
Mathea Fischer was born in 1992, so her age is 30. She is three years older than Leon Goretzka. Unfortunately there is no information about Mathea Fischer's birthday. Due to the fact that Mathea Fischer's date of birth is still unknown we are not sure what her zodiac sign is.
Mathea Fischer was born in Hagen, situated close to Gelsenkirchen, Germany, which means that her nationality is German. Mathea is currently living in Munich together with Leon.
Mathea Fischer has grown in a very supportive and loving environment. Her parents did everything they could to raise their daughter the right way and to show her the right path. Mathea's childhood was very blissful and full of good memories and fun moments together with her friend.
Mathea Fischer has not disclosed any details about her mother and her father. From what we've seen she is very close to them and she often can be seen with her mother supporting Leon Goretzka from the crowd. Mathea has one sibling, a younger sister, Matida Fischer. The two sisters are very close.
Mathea Fischer graduated high school in her hometown in Germany and she was an excellent student, who loved to study. After getting her basic education, she decided to enroll in university, but her major is still unknown.
Mathea Fischer's job is under review at the moment, so stay tuned for further information. Mathea is a very private person and she doesn't like to share any personal information. She prefers to avoid the spotlight as much as possible, but as the girlfriend of the game's wizard that's not always possible.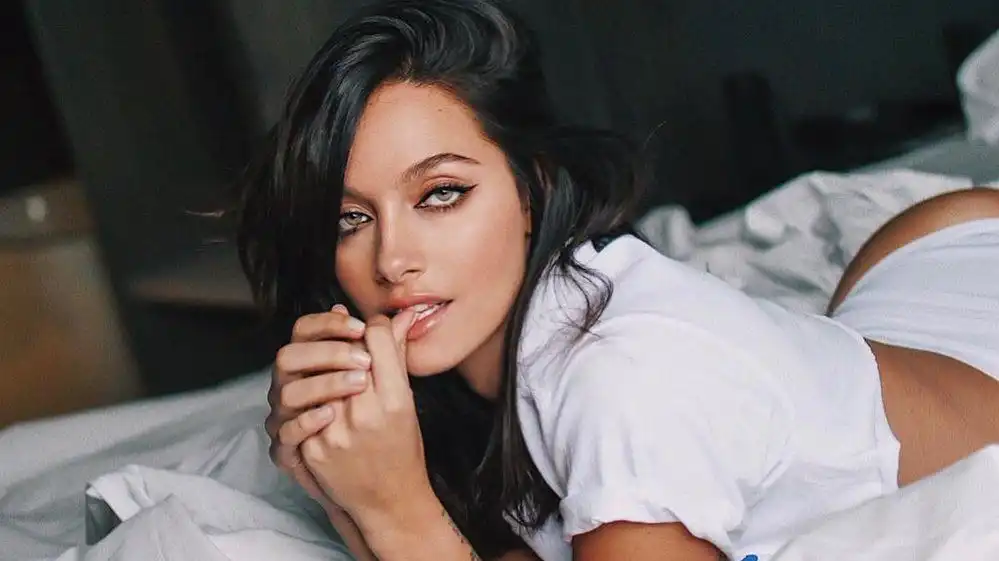 Checkout Paulo Dybala's Hot Girlfriend - Oriana Sabatini
Mathea Fischer's net worth is under review at the moment, so stay tuned for further information. There are no details on Mathea's wealth, but we are working on it to find out more.
Leon Goretzka's net worth on the other hand is estimated to be over €35 Million. Goretzka's annual salary at Bayern Munich is €8 Million and his weekly wage is €162,602, making him one of the highest paid Bayern players.
Mathea Fischer is probably one of the most mysterious WAGs alongside Eden Hazard's wife, Natacha Van Honacker. Mathea is not even on social media. She does not use Instagram or Twitter and she can't be found there. Of course there are several fan accounts of her, but she prefers to spend her time with her boyfriend rather than scrolling on social media.
Mathea Fischer's height is around 5 ft 7 inch (170 cm) and her weight is around 56 kg. Mathea is in great shape and she takes great care of her body. Fischer trains regularly and she is eating as healthier as possible. She is Leon Goretzka's gym buddy and she helps him with his exercises, as he showed in his Instagram. She has dreamy eyes, and beautiful wavy dark hair.