Jorgelina Cardoso is the stunning wife of the PSG star, Angel Di Maria.
Angel Di Maria has been one of the key players in attack for the French team Paris Saint-Germain.
The Argentinian has helped his team win many titles and he was even part of their historic campaign in the Champions League in the 2019/20 season.
However, Oh My Football decided to take a closer look into his personal life, rather than his professional, and learn more about his stunning wife.
Ángel Di María is married to his long-time girlfriend Jorgelina Cardoso.
The couple has been married for over 10 years, as they tied the knot in 2011.
Di Maria and Cardoso have known each other for years, before they actually started to date.
However, after dating for several years, Cardoso and Di Maria married in a beautiful wedding ceremony in Argentina, where all of their closest friends and their families were part of the guests.
Jorgelina Cardoso is mostly known for being the wife of the famous winger of PSG, Angel Di Maria.
Now let's take a closer look into Jorgelina Cardoso biography and learn as much as possible about her.
Jorgelina Cardoso was born on July 11, 1982, meaning that her age is 40.
According to her birthday, Jorgelina Cardoso's zodiac sign is Cancer, which means that she is a very sensitive and emotional person, who is always ready to help his friends. People born under the sign of Cancer are usually deeply intuitive and sentimental.
Jorgelina Cardoso was born in Rosario, Argentina, such as her husband. Jorgelina Cardoso's nationality is Argentinian.
Jorgelina Cardoso comes from the family of Papito Lindo, who is her father and who was born in 1948.
Jorgelina Cardoso comes from a religious family and her religion is a Christian.
Jorgelina Cardoso is definitely not only beautiful, but she is very smart, too.
Cardoso graduated from the University of Buenos Aires and she is fluent in not just one language, but three.
Angel Di Maria's spouse speaks French, Spanish and English.
Jorgelina Cardoso is one of the most ambitious WAGs, as she found the golden mean between her job and her family.
After graduating from college Jorgelina Cardoso started to work as a homemaker and that has been her profession since then.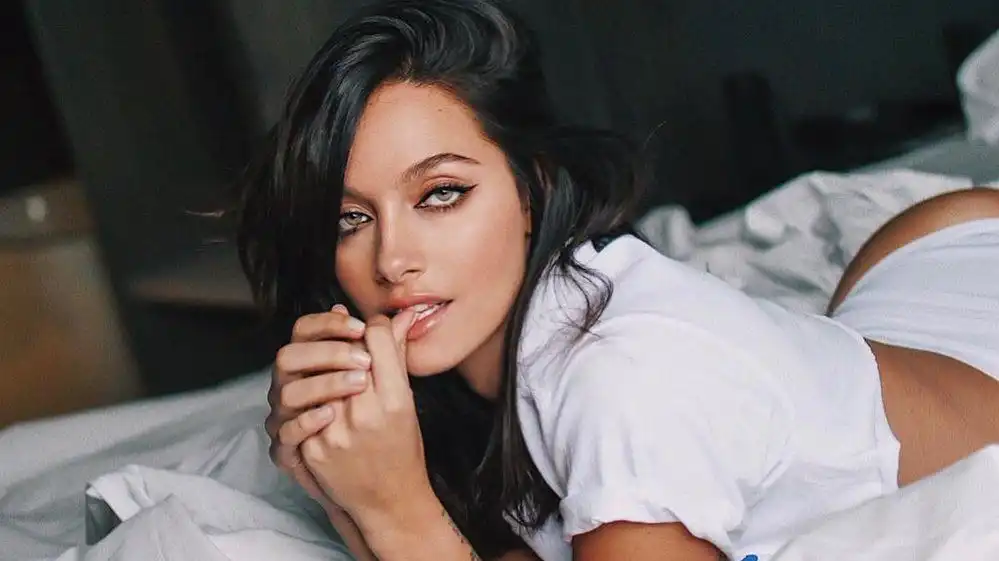 Checkout Paulo Dybala's Hot Girlfriend - Oriana Sabatini
Jorgelina Cardoso's net worth is under review at the moment, so stay tuned for further information.
Angel Di Maria's net worth on the other hand is very significant, as it is estimated to be over $18 million.
Angel Di Maria's annual salary is one of the highest at PSG, as the Argentinian earns around $7 Million.
However, Jorgelina Cardoso gained a lot of fame around her husband and she even got more than 198K followers on Instagram, where she posts pictures of her and her family.
Cardoso also likes to post provocative snaps of her in a bikini from time to time.
You can check Jorgelina Cardoso's Instagram here.
Jorgelina Cardoso does not use Twitter.
Ever since Angel Di Maria joined Paris Saint-Germain in 2015, Jorgelina and her husband have been living in Paris, France.
Recently, Di Maria's wife spoke about what it is like living in France and she compared it to Manchester, where she and Di Maria spent one year, when he was playing for Manchester United.
Jorgelina Cardoso admitted that she begged Di Maria not to join the Red Devils and she said that she hated living in Manchester.
Jorgelina Cardoso height is 5ft 4in(162cm) and her weight is 58 kg.
Jorgelina Cardoso's body measures around 34-26-24 inches.
Jorgelina's shoe size is 7 (US) and her dress size is 4.
Angel Di Maria and Jorgelina Cardoso are blessed with two beautiful children.
In 2013, Jorgelina gave birth to Angel Di Maria's first daughter, Mia Di María. Unfortunately for the parents, Mia Di Maria was born 3 months premature and she was placed in a special facility, but after six months she was declared healthy.
On November 3, 2017, after being pregnant for the second time, Cardoso gave birth to Pia Di Maria.