Pilar Rubio is the stunning wife of the Real Madrid star, Sergio Ramos.
Sergio Ramos is without a doubt one of the best defenders in the world of all time and he has been playing for the Spanish giants Real Madrid for over 15 years.
During his professional career Ramos has accomplished many great things, including winning the Champions League three years in a row, but we believe that you are more interested in his personal life. We decided to focus our attention on the woman that has captured Ramos' heart and has been with him for many years.
Sergio Ramos is married to his long-time partner Pilar Rubio. The couple started their relationship in September 2012, but decide that it is time to tie the knot many years later.
Sergio Ramos and Pilar Rubio got married in a lavish wedding ceremony in the hometown of the defender as the wedding was held at the Seville Cathedral.
There were many celebrities among the 400 guests that attended the ceremony, including David Beckham and his beautiful wife Victoria Beckham, Keylor Navas and his wife, Luka Modric with his partner. Even Ramos' teammates from the Spanish national team, Álvaro Morata, Sergio Busquets and Jordi Alba were there to see their captain getting married.
One Thing that surprised many fans is that Cristiano Ronaldo and Georgina Rodriguez were not among the guests.
Pilar Rubio looked amazing on her big day as she chose a wedding dress which was designed by the famous Lebanese designer, Zuhair Murad.
The brunette beauty was not like the other brides, as she decided to take quite a different route, with her two braids hanging loose from her hair, and a wedding bouquet, which had a very Gothic look, as the flowers were all black.
Enough with Pilar Rubio and Sergio Ramos love story, let's find out what person she is.
For the football fans Pilar Rubio is mostly known as the wife of the Real Madrid biggest star, Sergio Ramos.
But Pilar is actually very famous in Spain, as she is a reporter and a model.
Now let's take a closer look into Pilar Rubio's biography and learn as much as possible about her.
Pilar Rubio was born on March 17, 1978, which means that her age is 44.
According to her birthday, Pilar's zodiac sign is Pisces, which means that she is known for her spirituality and passion. Usually people born under the sign of Pisces are full of spiritual and philosophical questions.
Pilar Rubio was born in Torrejón de Ardoz, Community of Madrid, Spain, which means that her nationality is Spanish.
Pilar comes from the family of Manuel Rubio and Pilar Fernández. As her parents they have always supported their daughter.
Pilar Rubio started to study Economics, but she never finished her education and did not get her degree from the university. She chose to focus more on her career rather than her education.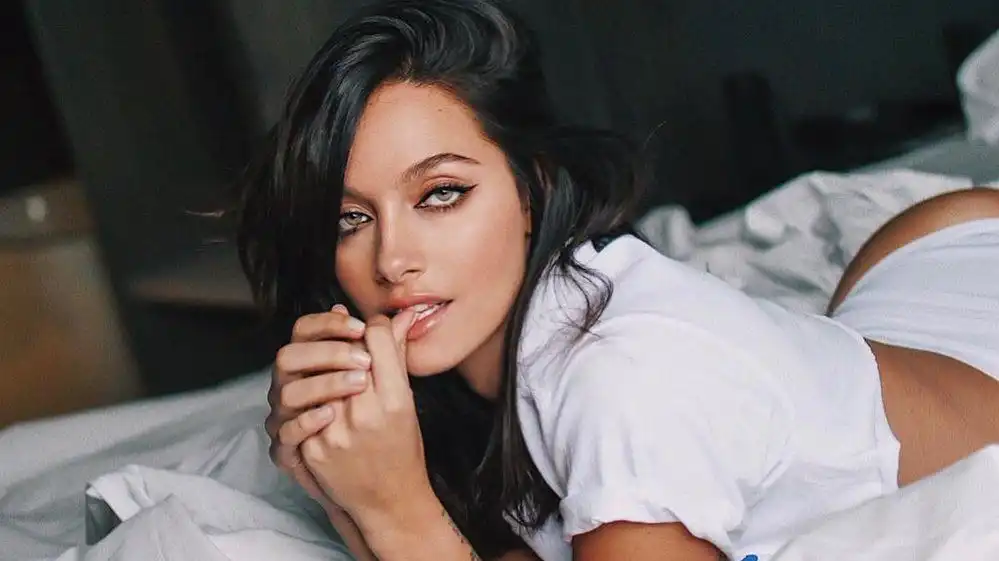 Checkout Paulo Dybala's Hot Girlfriend - Oriana Sabatini
Pilar Rubio started her career as a reporter, as she was covering events for the program a TV comedy show, which aired on the television network La Sexta. In 2008, Pilar became a presenter of the , which aired on the same network, .
From 2014, Pilar got a new job for , as she appears as a collaborator.
However, Rubio is also an actress and a model. She has modeled for several magazines, and also appeared in a couple of short-cut movies like and .
Pilar Rubio is undoubtedly one of the most famous WAGs and one of the richest ones as well.
Pilar Rubio's net worth is estimated to be over $2 Million.
Her husband's net worth is even more significant. Sergio Ramos's net worth is around $80 Million.
Ramos' annual salary is one of the highest at Real Madrid, as he earns around $25 million per year.
For a model she is not that high, as Pilar Rubio's height is 1.64 m, or 5'5'' in feet. Rubio weight is 51 kg.
Pilar Rubio is one of the most famous WAGs, as she has a huge fan base on social media.
Rubio is regularly posting photos on her official Instagram account, where she has more than 5.5 million followers.
You can check Pilar Rubio's Instagram here.
Pilar also has a Twitter profile, with more than 792.7K followers and she is very active there as well. You can check Pilar Rubio's Twitter account here.
If you check Pilar's Insta you will see for yourself that Sergio Ramos' wife has an amazing look and Rubio does not need to have make up to look beautiful.
Pilar Rubio has several tattoos, but every single one has a special meaning to her.
She has one on her wrist that has the letters M and S on it with a lightning bolt separating them, which is dedicated to her sons Marco and Sergio.
Rubio also has a tattoo on her arm dedicated to her third son Alejandro again with a rock symbol, as she is a die hard fan of this genre.
The brunette beauty also loves to take care of herself and she spends a lot of time in the gym doing her workouts. She is also on a diet to keep her body healthy.
Rubio eats mostly whole foods and her diet is based on foods full in fibre, protein and hea;thy fats. She also loves eating pasta.
Ramos and Rubio are happy parents of four healthy sons.
On November 12, 2013, Rubio and her husband announced that they are expecting their first child together. Nine months later, on May 6, 2014 she gave birth to Sergio Ramos Jr.
A year later, Rubio announced that she is pregnant with their second baby, and on November 14, 2015, they welcomed their second son Marco Ramos.
In 2018, the couple welcomed their third son Alejandro Ramos.
Obviously, three was not enough for Rubio and Ramos and the couple announced in 2020 that they are on the way to have their fourth child.
On July 26, 2020 the couple welcomed their fourth son - Maximo Adriano Ramos.