Meet Sarah Mens, the stunning ex-girlfriend of the Chelsea star, Romelu Lukaku. In the following article, you will learn many interesting facts about Sarah Mens, including her biography, zodiac sign, career, body measurement and many more fascinating things about her. So read on to find out everything there is to know about her.
Romelu Lukaku is one of the best strikers in the world without a doubt. He had struggled to find his place at Manchester United, but since he left the club in 2019 he has been in phenomenal form. Lukaku is one of the most physically powerful strikers in the world and despite his size, he easily dribbles past defenders making him a great threat to the opposition. We all know what a great footballer the Belgian is, but little do we know about his personal life because he is very private about it.
Romelu Lukaku was in a long-term relationship with the stunning Sarah Mens. Sarah and Romelu met back in 2016 when she was an intern in Miami. They fell in love with each other and quickly after they first met they started dating.
In early 2021, the couple parted ways after almost five years of dating. Neither Lukaku nor Sarah commented on their separation as they are very private about their love life. They were even rumoured to have a child together.
Sarah Mens is a successful business owner and an entrepreneur. She is mostly known for being the daughter of the famous Dutch television host Harry Mens. The football fans know her for being the long-term girlfriend of Romelu Lukaku. Many even considered Sarah Mens to be Romelu Lukaku's wife before they announced that they are no longer together. Taking a closer look into Sarah Mens' biography will help you know her better.
Sarah Mens was born on May 13, 1993, so her age is 29. According to her birthday, Sarah Mens' zodiac sign is Taurus, which means that she is a very calm and logical person. Usually, people born under the sign of Taurus are very patient and organized and they are kind and understanding.
Sarah Mens was born in the Netherlands, meaning that her nationality is Dutch.
Sarah Mens grew up in a family that was never short of money. She is the daughter of the famous Dutch TV presenter, Harry Mens. Sarah's father is also an actor, who starred in movies like Sekjoeritie. It is believed that Sarah's dad never met Lukaku during the time his daughter was dating the Chelsea player.
Sarah Mens has three siblings. She has three sisters. Her older sister is Suze Mens, who is also a TV presenter. Sarah has two younger sisters, Nour Mens and Marlous Mens.
Sarah Mens graduated high school in her hometown in the Netherlands and she was one of the best students in her class. After her graduation, she enrolled in university to seek higher education. Sarah Mens studied at the Instituut Blankestijn in the Netherlands.
Sarah Mens has done several photoshoots when she worked as a model. After she graduated from university, Sarah decided to start her own business. Currently, Sarah Mens runs her own business for interior design. Her website is called Brash and her company is based in the Netherlands. She made the biggest investment in starting something of her own, but her father is also on the table. Sarah is very independent and she does not rely on anyone to take care of her.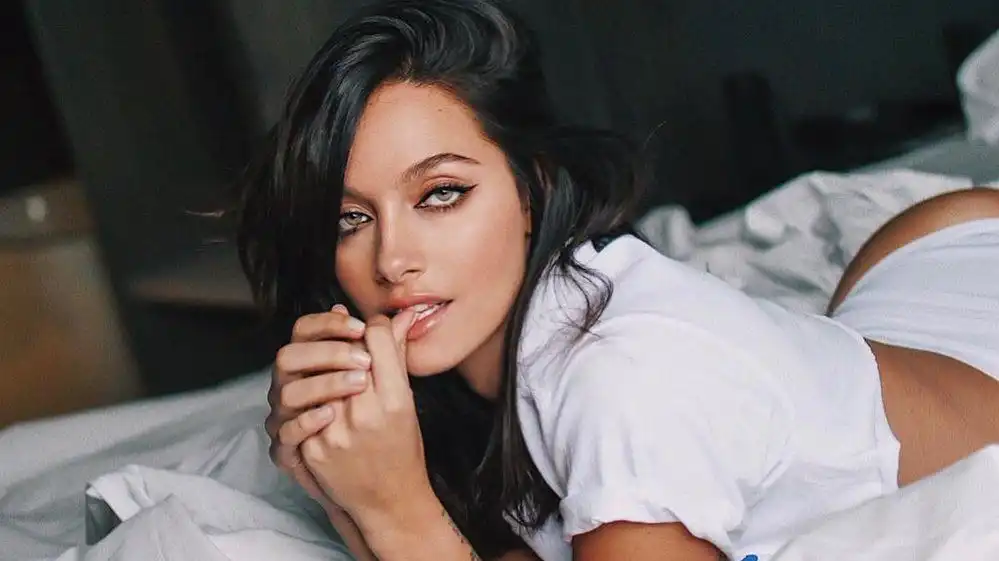 Checkout Paulo Dybala's Hot Girlfriend - Oriana Sabatini
Sarah Mens' net worth is estimated to be approx. $1 - $5 Million. She made most of her wealth from her company.
Romelu Lukaku's net worth is very significant. Lukaku's net worth is estimated to be over $20 Million. Romelu Lukaku's annual salary is around €12 Million and his weekly wage is €230,769.
Sarah Mens values her privacy very much, that's why she chose to set her Instagram profile to private. She is very famous on Instagram though, she has gained thousands of followers who love her content.
You can check Sarah Mens' Instagram here, she goes by the nickname @saarmens.
Sarah Mens' height is around 5 ft 6 inch (167 cm) and her weight is around 55 kg (121 lbs). Sarah has dark hair and dark eyes. She has a great body and she trains regularly in order to stay in shape. Sarah Mens body measurements are 36-28-36 inches. The feet size of Sarah is 7 (US). She has several tattoos on her body. Sarah has done fine work on her lips and they look fantastic. She is on a healthy diet to help her maintain her body weight.
Sarah Mens and Romelu Lukaku are rumoured to have one child together. It is believed that Sarah gave birth to Lukaku's son, Romeo Lukaku.